Mikhail Khodorkovsky, Former Russian Oil Magnate, Released From Prison After 10 Years, After Putin's Pardon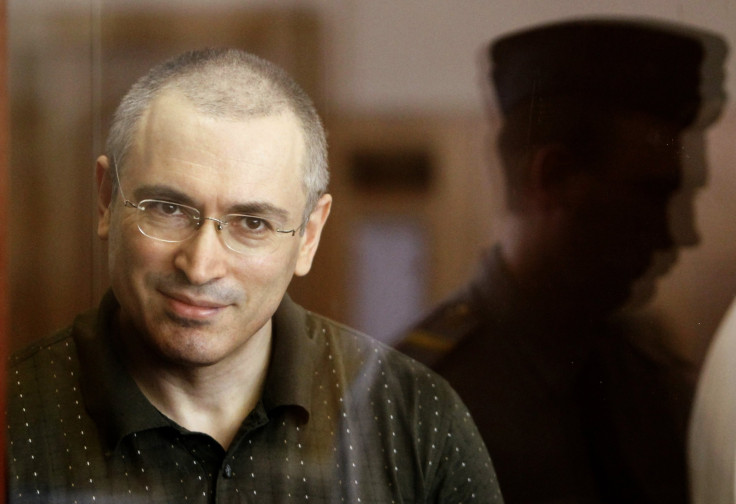 Mikhail Khodorkovsky, once the richest man in Russia who has been jailed for more than a decade and is considered a foe of Russian President Vladimir Putin, was released after the latter signed a decree granting him amnesty, state news agencies reported on Friday quoting Khodorkovsky's lawyer.
Putin said the former oil tycoon, who was convicted on charges of tax evasion and embezzlement, had requested a presidential pardon because his mother is ill. However, Putin's statement that Khodorkovsky, who headed former Russian oil giant Yukos, asked for pardon was met with surprise as the latter had repeatedly asserted in the past that he would not ask Putin for clemency, because that would amount to admitting his guilt. The Kommersant newspaper reported that Khodorkovsky sought a pardon to avoid a third possible trial against him.
Putin's decree, published by the Kremlin, said, "Guided by humanitarian principles, I decree that Mikhail Borisovich Khodorkovsky... should be pardoned and freed from any further punishment in the form of imprisonment. This decree comes into force from the day of its signing," the Daily Telegraph reported.
Khodorkovsky's release comes after reports earlier this month that members of the band, Pussy Riot, and 30 Greenpeace campaigners, dubbed the Arctic 30, who are imprisoned in Russia, will be freed under an amnesty initiated by Putin.
Political commentators who spoke to Russia's RT attributed Putin's amnesty initiative and Khodorkovsky's release to a wide range of issues, with a commentator stating that the recent clemency moves may be aimed at gaining international goodwill ahead of Putin's showcase Winter Olympics in Sochi, Russia in February, or that he may be trying to tamp down Western criticism, which has gone up a notch in the wake of an issue over Ukraine's entry into the European Union.
"This is probably PR attempt by the Putin Administration ahead of the Olympics to engender some good press coverage, some good will towards Russia," Mark Sleboda, a senior lecturer and researcher in international relations and security at Moscow State University, told RT. "But also, I think to deflect a little bit of tension and anger away from the EU and the US over their recent losing of the bidding war over the Ukraine with Russia."
But several others said Khodorkovsky commands little sympathy within Russia or in the West, because unlike the Pussy Riot, Arctic 30 and Putin's other political opponents who have been languishing in jail, the financial fraud and tax evasion charges against Khodorkovsky are serious and "most ordinary people around the world and Russians, of course, feel that Khodorkovsky got what he deserved," Neil Clark, a journalist and broadcaster, told RT.
© Copyright IBTimes 2023. All rights reserved.