Million Student March 2015: College Protesters To Push For Free Tuition, No Debt And $15 Minimum Wage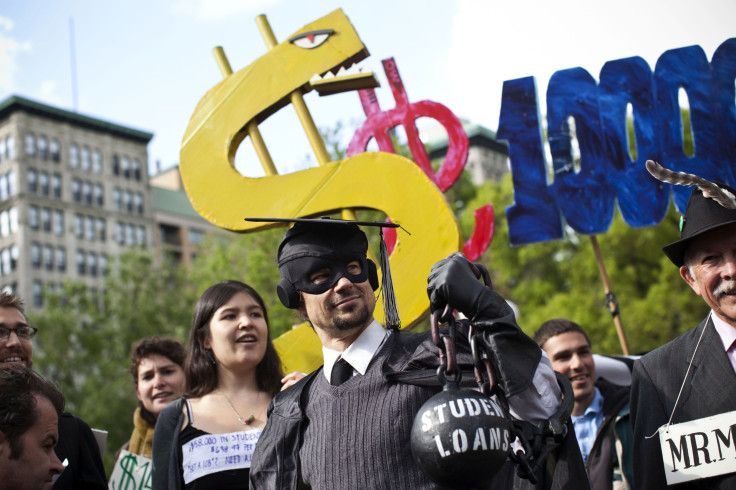 College students and supporters at 115 campuses across the nation were preparing to walk out of class Thursday and join in protests for free tuition, canceled student debt and a higher minimum wage for school employees. A national Facebook page for the Million Student March had about 3,000 RSVPs Thursday morning, but attendance numbers at various events were immediately unclear, Reuters reported. The rally was set for 3 p.m. local time.
"The United States is the richest country in the world, yet students have to take on crippling debt in order to get a college education," organizers wrote on their website. "We need change, and change starts in the streets when the people demand it."
The Million Student March's day of action was aimed at securing tuition-free public college, widespread debt forgiveness and a $15 minimum wage for people who work on campus. Though some of those ideas were playing prominent roles in the presidential campaign of Vermont Sen. Bernie Sanders, the organizers labeled themselves as independent.
The demonstrators came armed with facts. The College Board released a report this month that found tuition and fees for an in-state student enrolled at a public, four-year college averaged $9,410, up $265 from the year before. When adjusted for inflation, tuition and fees today were 40 percent higher than 10 years ago, according to previous International Business Times reporting.
Though student borrowing was falling as the economy recovered from the Great Recession, a recent report from the Institute of College Access and Success found about 70 percent of the class of 2014 had student loan debt. Their loans averaged $28,950.
"We cannot stand by any longer while our education system is destroyed from within. It's time to take action," Northeastern University student Keely Mullen told United Press International.
The march was due to coincide with several colleges' rallies in solidarity with the University of Missouri, where protests over the administration's mishandling of racist incidents drove the system president to resign this week. Organizers embraced the timing, writing on Facebook that "the fight for free education is nothing without the fight against racism on campus and in our society."
© Copyright IBTimes 2023. All rights reserved.