Millionaire's Tax: Reid Hopes Senate Can Vote Tuesday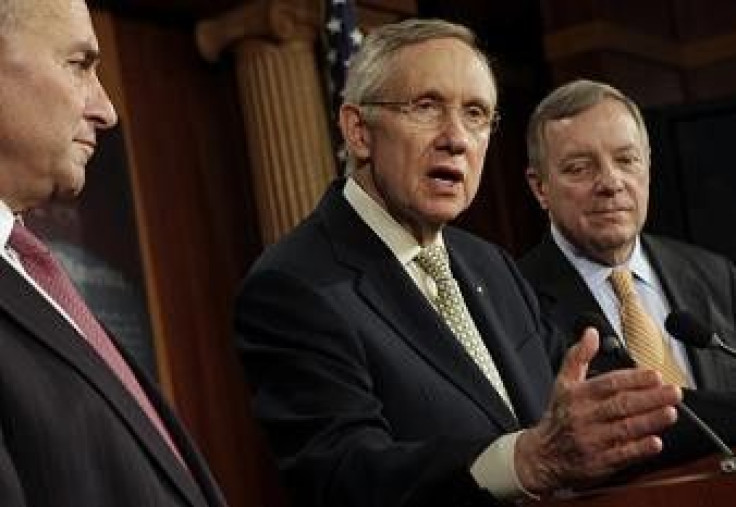 A U.S. Senate bill that would increase the income tax on adults with adjusted gross incomes of over $1 million a year has created a deep division among members on both sides of the aisle, despite a majority of public support from American voters.
United States Sen. Harry Reid, D-Nev., has introduced a bill that would increase the tax on American adults making more than $1 million a year by 5 percent in 2012, and then raise that level to 5.6 percent in 2013.
The Congressional Budget Office, in its revenue estimate of the Reid bill, said it would raise $453 billion, or enough money to pay for President Barack Obama's $447 billion jobs bill; in fact, it would decrease the deficit by about $6 billion over the 2012-2021 period. The Obama jobs plan includes additional funding for teachers, police, firefighters and infrastructure projects across the nation.
With 14 million people out of work in America, there are far too many people living in the richest nation in the world yet unable to enjoy the full freedom and independence for which America stands, Reid told the Senate when he introduced his surtax, CSPAN reported.
Senate Vote Expected Tuesday
The Senate is expected to vote on Reid's Bill on Tuesday. Veteran Democratic Senators Charles Schumer, D-N.Y., and Dick Durbin, D-Ill., have pledged their support for Reid's bill.
Senate Republicans, however, have strongly opposed it and said there is no way it will get the 60 votes needed for passing.
Senate Minority Leader Mitch McConnell, R-Ky., argued that increasing taxes on any American would devastate the U.S. economy and chastised the Democrats for playing politics at a time when 9.1 percent of Americans are unemployed.
I understand our Democrat friends want to jettison entire parts of the bill altogether -- not to make it more effective at growing jobs, not to grow bipartisan support, McConnell told the Associated Press.
McConnell is backed by many of his party colleagues including Sen. Orrin Hatch, R-Utah, who called on Democrats to vote no.
Given the weak state of our economy, they'd be wise to reject it, he told The Associated Press.
The Republicans in the House have also said they would vote against any bill that would raise taxes.
Schumer: How Can GOP Defend Not Taxing the Wealthiest 1 Percent of America?
Schumer blasted the Republican Party and urged them to explain their reasons for their opposition to a plan that he said would pay for thousands of jobs and improve the quality of life for millions of Americans.
Republicans will struggle to defend putting off repairs to crumbling schools in order to protect tax breaks for the wealthiest 1 percent of America, he told The A.P.
A majority of Americans have indicated that they agree with asking the nation's wealthy to pay more, according to a new survey.
A Washington Post-ABC News poll released just before Reid introduced his measure indicated that 75 percent of Americans approved of a millionaire's tax.
Billionaire investor Warren Buffet already expressed his approval of the tax hike in a New York Times op-ed piece that was published in August -- the so-called Buffett Rule that argues that he, Buffett, should pay a marginal income tax rate at least as high as his secretary. Obama cited Buffet's op-ed when he introduced his jobs package bill to a special session of Congress last month.
President Obama also made his case to the public during his weekly radio address Saturday, reminding Americans that the nation has to make sacrifices in order to improve its economic woes.
We can either keep taxes exactly as they are for millionaires and billionaires, or we can ask them to pay at least the same rate as a plumber or a bus driver, Obama said. And in the process, we can put teachers and construction workers and veterans back on the job.
Sen. John Thune, R-S.D., countered in the Republicans' weekly radio address that the jobs package was a cynical political ploy.
[It's] nothing but a rehash of the same failed ideas he's already tried, combined with a huge tax increase, Thune said.
Thune suggested that U.S. could increase its revenue by reducing trade barriers and selling more American goods overseas.
FOR FREE to continue reading
✔️ Unlock the full content of International Business Times UK for free
offer available for a limited time only
✔️ Easily manage your Newsletters subscriptions and save your favourite articles
✔️ No payment method required
Already have an account?
Log in
© Copyright IBTimes 2023. All rights reserved.