Minimum Wage Fight For $15: Minnesota Home Healthcare Aides Join Call For Pay Raise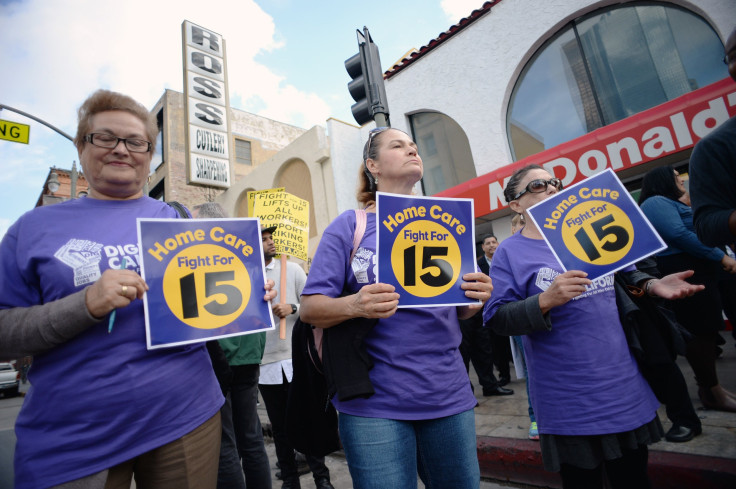 Home healthcare workers in Minnesota have joined a growing chorus across the country calling for a $15-an-hour minimum wage. Workers in the fast food industry have won victories in several cities and states in recent months to raise their minimum wage to $15 hourly, and now, employees in other sectors of the economy are trying to follow suit.
Leading the movement is the Service Employees International Union's Drive for 15, a national effort to raise the minimum wage to $15 an hour for low-wage employees in a plethora of sectors. Among them are airport workers, shuttle bus drivers and, now, home healthcare aides, who make rounds to the residences of people who are physically disabled, elderly or have chronic illnesses or mental disabilities and need help with tasks ranging from grocery shopping, doing laundry and preparing food to taking medication and checking vital signs.
In 2012, the median pay for a home healthcare aide in the United States was $20,820 year, or $10.01 per hour, according to the Bureau of Labor Statistics. That year, the country had about 875,100 home healthcare aide jobs, but with an aging population, that number is expected to grow by nearly 50 percent in a decade, outpacing the average job growth for all occupations.
In Minnesota, Rep. Keith Ellison, a Democrat, has expressed public support for increasing home healthcare aides' wages. Those workers formed a union in August 2014 and eventually reached an agreement with the state to increase their minimum wage to $11 an hour. That new rate went into effect July 1, and also granted workers five days a year of paid time off.
"We are all one injury or one illness away from needing the care that you all can provide to him," Ellison told the workers, CBS Minnesota reported. "Without treating our home healthcare workers properly, then we have people who need 24-hour care. It's more expensive and the care is not as good."
Massachusetts home care workers in June won a $15 an hour starting wage. Oregon also granted a minimum wage hike to $15 an hour for home healthcare aides, in an agreement reached in August.
Minnesota has more than 42,000 healthcare and long-term care workers, according to SEIU Healthcare Minnesota.
© Copyright IBTimes 2023. All rights reserved.