Missing Argentine Submarine Latest: Sonar Contact Detected In ARA San Juan Search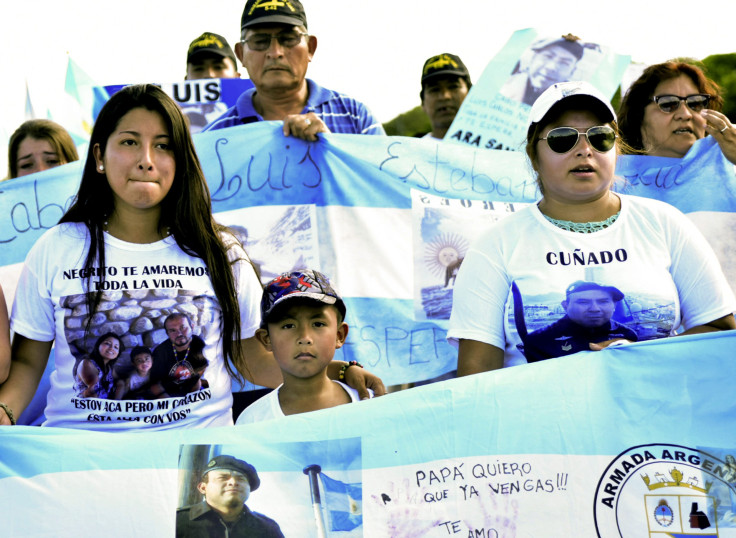 A new sonar contact was detected in the search for a missing Argentine submarine in the South Atlantic, the country's navy said Sunday. The ARA San Juan went missing off the southern coast of Argentina Nov. 15 with 44 crew members on board.
On Sunday, authorities said that the contact will be investigated by the remotely operated Russian Panther Plus submarine as Atlantis — a U.S. oceanographic research vessel — continues to examine the search area. Thirteen countries are helping Argentina in its search for the San Juan submarine.
No further details about the contact have been released Sunday as other reported contacts detected several weeks ago turned out to be to nothing.
The search for the submarine continues but authorities have given up hopes of finding survivors after the vessel reported seawater had entered the ventilation system, causing a battery to short-circuit and start a fire, in its last message.
The ARA San Juan's last known location was about 300 miles from Argentina's southern coast and was believed to have disappeared following the battery failure.
Navy spokesman Enrique Balbi told reporters late November that the captain said water had entered through the diesel-electric vessel's snorkel when its batteries were being changed.
It is believed that the crew on board the vessel were dead as experts say the crew only had up to 10 days of oxygen if the sub remained intact under the sea. An explosion was later detected around the time and place where the submarine last made contact.
"The extreme environment, the time elapsed and the lack of any evidence eliminates a scenario compatible with human life," Argentine navy spokesman Enrique Balbi said last month. "These are hours of intense pain and anguish [for relatives] in light of the loss of their loved ones, our 44 comrades."
As part of an investigation into the disappearance of the ARA San Juan, Argentine authorities raided the nation's naval headquarters as well as the German industrial contractor Ferrostaal amid concerns the submarine may have been part of a corruption, reports said last week.
"There is a suspicion that the batteries that have been replaced were partly or not of the quality that they should have [been]," Cornelia Schmidt-Liermann, chair of the Foreign Affairs Committee of the Argentine Parliament, told BR. "We also do not know where they came from, Germany or any other country, so we want to know what technicians were there and those who signed."
Family members of those on board also accused the navy of putting its people in unsafe conditions, including one who said the military "sent a piece of crap to sail."
The German-built TR-1700 class submarine was commissioned in the 1980s and had been refitted between 2008 and 2014. It was built by a subsidiary of now-defunct Germany's ThyssenKrupp.
© Copyright IBTimes 2023. All rights reserved.