Mississippi GOP Tea Party Challenger Claims Voter Fraud, Threatens Legal Action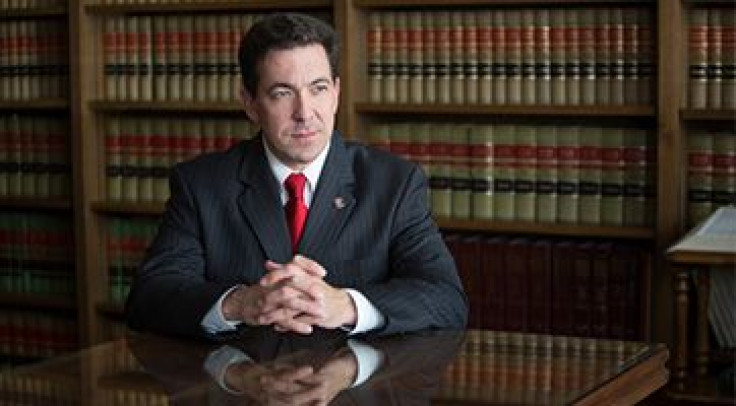 The Mississippi GOP primary runoff between longtime incumbent Sen. Thad Cochran and tea party insurgent Chris McDaniel was closely watched and -- with Cochran's apparent victory -- widely seen as a reprieve for the establishment wing of the Republican party.
Not so fast. More than a week later, the losing candidate in the contest to be the GOP's senate nominee in the fall still won't concede. McDaniel called the results "a sham" and said, "Thanks to illegal voting from liberal Democrats, my opponent stole last week's runoff election."
He is mounting a legal challenge to overturn the June 24 election, which Cochran won by less than 7,000 votes.
On Thursday, McDaniel -- an attorney, conservative former radio host and state senator since 2008 -- sent a "Notice of Intent to Challenge" to Cochran's campaign, according to Time.
McDaniel campaign spokesman Noel Fritsch said on Thursday that this was the insurgent candidate's first step to invalidate the election on the grounds of "voting irregularities." Early next week, he said, McDaniel's campaign will file an official challenge with the state Republican Party, which runs the primary election, and then a legal court challenge.
Cochran's winning strategy in the runoff relied on appealing to the state's mostly black Democratic voters, who were eligible to vote in the state's open primary, regardless of their party affiliation, because Mississippi voters don't register by party. Many African-American voters did cast ballots in the runoff, presumably for Cochran.
According to Fritsch, the McDaniel campaign said it had found significantly more than 4,900 votes that should be invalidated because they were cast by voters who voted in both the Democratic and Republican primaries, which is illegal in Mississippi. He also said they havn't been given access to records in 31 counties, or to 19,000 absentee ballots, Time reported.
Jordan Russell, a spokesman for Cochran's campaign, said the challenge was "baseless."
Mainstream Republicans are finding the whole situation awkward. Wanting Cochran to hold onto his victory, they find themselves supporting the Voting Rights Act, which the GOP has been working to eviscerate. Most national Republicans have distanced themselves from McDaniel's complaints about Democrats voting: They don't want to see the tea partier win. McDaniel is not pro-business; if he were to become the party's candidate, the senate seat might no longer be a Republican lock; and his battle against black voters only deepens the party's difficulty in gaining support from non-white voters.
Some of the groups that gave millions to back McDaniel are abandoning him now. According to the AP, despite spending more than $3 million to back McDaniel, The Club for Growth congratulated Cochran on his victory and promptly disappeared from the fray.
Many of McDaniel's supporters are insisting that the Democrats who provided the margin of victory for Cochran broke Mississippi's crossover voting law, which prevents those who voted in June's Democratic primary from voting in the Republican primary. (McDaniel staffers are canvassing the 82 counties of Mississippi to look for violations among crossover voters.) Other McDaniel backers claimed that Cochran's Democratic supporters are required to vote for Cochran in the general election, despite a court ruling that said such a policy was unenforceable.
This week, McDaniel said he was raising money for a legal challenge to the official vote tally, and he's offering $1,000 to anyone with information about voter fraud in the runoff election, the Washington Post reported.
State Sen. Michael Watson, an attorney and McDaniel campaign operative, said on Tuesday that there were approximately 3,300 crossover votes in 38 counties alone, the A.P. reported. However, the campaign has provided no evidence to support its claims.
Mississippi's Republican executive committee met on Tuesday but refused to certify the runoff's results as an unknown number of affidavit ballots haven't been counted yet. Those affidavit ballots must be counted according to the state's new voter ID law. Those votes will likely favor Cochran, as the law was created to protect the rights of voters without proper ID on the day of the election, most of whom are African-American.
According to the new law, voters without an approved government-issued photo ID must be allowed to vote by affidavit, but they must show an approved valid ID to election clerks within five days of an election to have their vote counted in the official tally.
How we got here
It all began when Cochran, Mississippi's six-term senior senator, was unexpectedly defeated in Mississippi's Republican senate primary on June 3.
Cochran's loss sent shockwaves through the GOP establishment. Known for getting federal dollars to flow to Mississippi, Cochran entered the Senate in 1978 and has held a seat on the powerful Senate Appropriations Committee for 33 years. As a member of the committee, he brought hundreds of millions of dollars to the state for projects like new university campuses, highways and wastewater systems, including billions in federal assistance to Hurricane Katrina-ravaged Gulf states in 2005.
Despite Cochran's experience, plum committee membership, support from his party's establishment and skill at bringing home legislative bacon -- or perhaps because of them, since they allowed McDaniel to tag Cochran as a Washington insider -- he lost to the tea party insurgent. Only 1,400 votes separated the two men, who each got less than 50 percent of the vote, forcing the runoff.
Two weeks before the June 24 runoff, House Majority Leader Eric Cantor lost unexpectedly to tea party-aligned college economics teacher David Brat in Virginia's GOP primary. Since Mississippi's runoff election was the next scheduled GOP primary on the calendar, the tea party vs establishment rematch between Cochran and McDaniel gained national interest and attracted millions of dollars from out-of-state groups who saw the runoff as a battle in the war for control of the Republican Party.
The pro-business Cochran had groups like the U.S. Chamber of Commerce, which doled out $4 million on his behalf, in his corner, while anti-government spending groups, which forked over $7 million, were in McDaniel's, Reuters reported.
Cochran campaigned on the platform that an outsider like McDaniel wouldn't be able to bring home the federal funds on which half the impoverished state's budget relies, and McDaniel argued that Cochran was out of touch with the state's numerous far-right voters who favor a smaller federal government and stronger opposition toward Washington Democrats and the Obama administration.
For Cochran, the second time was the charm: He narrowly defeated McDaniel by 6,800 votes in last Tuesday's hard-fought primary, according to the Associated Press.
More than 370,000 votes were cast, according to Reuters, almost 60,000 more votes than in the earlier primary.
"What we have tonight is a consensus for more and better jobs for Mississippi workers," Cochran said, according to Reuters, when the votes were tallied.
But McDaniel wouldn't concede. "Before this race ends, we have to be absolutely certain that the Republican primary was won by Republican voters," he said.
Cochran is expected to win against Democrat Travis Childers on Nov. 4 in the general election, and his victory would be crucial to the Republicans' attempts to regain control of the U.S. Senate -- of which it's six seats shy -- and its drive to stymie the Obama administration's agenda in its last two years.
Since McDaniel's campaign has offered no evidence of voter fraud, it's unlikely it will be able to throw out enough crossover votes to overcome Cochran's margin of victory.
© Copyright IBTimes 2023. All rights reserved.