Missouri Governor Jay Nixon Faces Criticism For Response To Ferguson Turmoil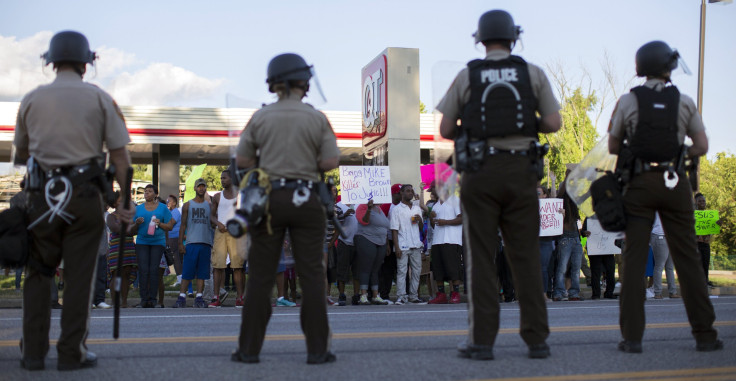 As protests raged in Ferguson, Missouri, following the police killing of Michael Brown, many awaited some response from Gov. Jay Nixon. After four nights of unrest in the St. Louis suburb, the Democrat announced early Thursday he would be canceling his appearances at the state fair so he could go to the scene. For many, though, his decision came a little too late.
Rep. William Lacy Clay, D-Mo., the area's congressman, announced in an interview Thursday with Bloomberg that the governor would be announcing the removal of the St. Louis County police from patrolling Ferguson. Some immediately praised Nixon's attempt to reduce tension between police and residents. But the announcement failed to erase the flood of criticism for what many considered a sluggish response.
Nixon offered his first remarks on the shooting during a community meeting in north St. Louis County on Tuesday, three days after Brown was killed. This was followed by his series of tweets on Thursday morning, commenting on the chaos in Ferguson. He also released an official statement.
The governor was recently called out by Missouri state Sen. Maria Chappelle-Nadal, a Democrat who represents the state's District 14. She was seen holding a picture of Nixon's head during a rally on Monday with the words "M.I.A. Again" written across his forehead. Speaking with MSNBC, Chappelle-Nadal said Nixon played a role in police's aggressive tactics against protestors and rioters.
"It's the governor who is allowing these kids to be further victimized and harassed for expressing their First Amendment rights. The governor doesn't care about black people or the black community unless it's politically expedient," she said. The pair have feuded over other issues in recent years, but many are echoing her sentiments that the governor should have taken action earlier.
As of Thursday afternoon, the governor posted a few new photos to his Twitter account, showing the work he is doing to help control the situation. He attended meetings with community groups and also spoke with President Barack Obama during the day.
Nixon is a two-term Democrat who was re-elected in 2012. Though Obama lost Missouri that year, Nixon won the governor's race by 12 points, reports USA Today. He has been touted as a possible vice-presidential nominee for the 2016 election.
© Copyright IBTimes 2023. All rights reserved.