Who Was Mike Brown: 5 Facts To Know About The Teen Fatally Shot By A Missouri Officer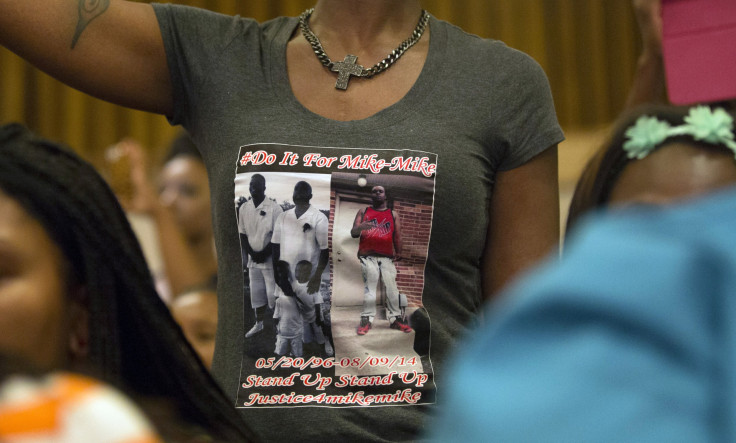 Anger continues to swell over the death of 18-year-old Mike Brown, the unarmed teen killed by a police officer over the weekend in Ferguson, Missouri. Outraged Missouri residents have participated in riots and protests during the last few days, while his parents continue to urge supporters to find peaceful ways to protest the death of the young man his family called "Big Mike."
Though the circumstances surrounding his death have been widely reported, not as much has been said about the mark Brown left on his family and friends. To offer a little more background on his life, we've gathered five facts you should know about Mike Brown.
He Graduated From High School In August
Brown received his diploma from Normandy High School in St. Louis, on Aug. 1, reports the Washington Post. He attended classes throughout the summer as part of an alternative learning program to make sure he would complete his final credits for school. The school is located in the troubled Normandy School District and had lost it's state accreditation. The Missouri school board voted in May to dissolve the whole district, which is in severe debt, and to bring in a new system and board, the St. Louis Post-Dispatch reports.
His Family Says He Was A 'Gentle Giant'
His uncle Charles Ewing described Brown as a "gentle giant," according to the Post. His family says he was an outgoing person who enjoyed spending time with his family and making others laugh. But they say he also had a shy side. Brown was a member of the U.S. Army's Junior Reserve Officers Training Corps as a freshman and he played on his school's football team, Mashable reports.
He Wanted To Own His Own Business
A close friend of Brown's since elementary school said the young man was focused on his goals, according to the St. Louis Dispatch. "Everyone else wanted to be a football player, a basketball player. He wanted to own his own business. He'd say, 'Let's make something out of nothing,'" said Gerard Fuller, who met Brown in the second grade.
He Was The Oldest Of His Siblings
Brown had two little sisters and a brother, reports KTVI. He was raised by his father, Mike Brown Sr., and mother, Leslie McSpadden. Brown's family said they called him "Big Mike." They said Brown had recently begun writing raps and recording them at his grandmother's home.
He Was Supposed To Start College On August 11
Brown was killed just two days before he was supposed to begin classes at Vatterott College in St. Joseph, Missouri. He planned to attend the technical school to learn how to repair air conditioners and furnaces.
© Copyright IBTimes 2023. All rights reserved.