Mitt Romney Makes 'Disconcerting' Olympic Gaffe In London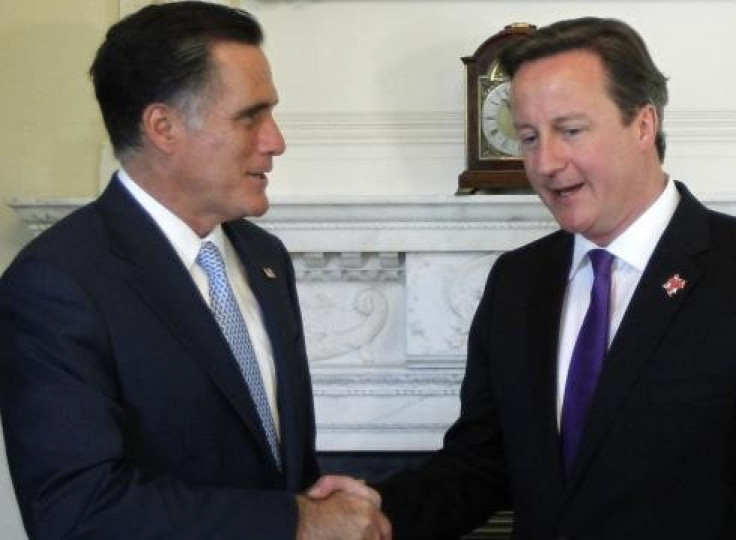 Mitt Romney's description of the preparations for the London Olympic Games as "disconcerting" has caused a flap for the GOP presidential hopeful during his first campaign trip abroad.
The Guardian, a liberal-leaning British newspaper, called Romney's remark a "gift to Obama."
The comments came in an interview with NBC on Wednesday, as reported by the New York Times. Romney said, "The stories about the private security firm not having enough people, the supposed strike of the immigration and customs officials -- that obviously is not something which is encouraging,"
The Guardian reported that in response, British Prime Minister David Cameron said, "We are holding an Olympic Games in one of the busiest, most active, bustling cities anywhere in the world. Of course it's easier if you hold an Olympic Games in the middle of nowhere."
After the prime minister's retort the former Massachusetts governor, who ran the 2002 Winter Games in Salt Lake City, tried to walk back his comments. "It is impossible for absolutely no mistakes to occur" at any Olympic Games, Romney said according to the Washington Post, but such errors "are all overshadowed by the extraordinary demonstrations of courage, character and determination by the athletes."
The candidate's trip to London, followed by visits to Israel and Poland, is a kind of debut on the international stage. Romney and Cameron met at Number 10 Downing Street to discuss the Olympics, Syria, Iran, Egypt, Tunisia, Libya, Pakistan and Afghanistan. The Republican hopeful also met with former Prime Minister Tony Blair, Deputy Prime Minister Nick Clegg, Foreign Secretary William Hague and Chancellor of the Exchequer George Osborne.
Romney was also briefed by Sir John Sawers, the chief of the British spy agency MI6, which also raised eyebrows. He announced that he had met Sawers, which is uncustomary to do, according to The Guardian.
© Copyright IBTimes 2023. All rights reserved.
FOLLOW MORE IBT NEWS ON THE BELOW CHANNELS