Mitt Romney Still on Shaky Ground as Rick Santorum Surges in National Polls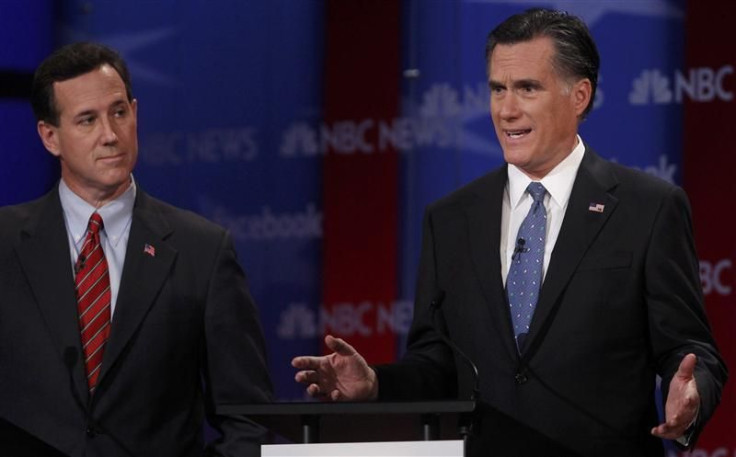 Former Massachusetts Gov. Mitt Romney won the Maine Republican caucus vote and the Conservative Political Action Conference (CPAC) 2012 straw poll Saturday. But recent polls suggest he is still on shaky ground as far as his front-runner status in the Republican presidential race is concerned.
For the first time in the GOP presidential race, Romney's national acceptability is below that of Rick Santorum, according to a couple of recent polls. Riding the wave of momentum engendered by his victories in Colorado, Minnesota, and Missouri last Tuesday, the former U.S. senator from Pennsylvania has surged to the top in national polls.
Romney put extra effort into his Maine campaign in the hope that a win there would help him surmount the embarrassment of his three losses last week. And, indeed, he did take Maine, but only by a narrow margin over U.S. Rep. Ron Paul of Texas, while the CPAC straw-poll victory was a nice bonus. Nevertheless, it appears that in national polling Santorum has leaped ahead, leveraging his recent victories, as Romney has fallen behind.
According to Public Policy Polling's Republican presidential national poll released on Saturday, Santorum is leading the race with 38 percent support from GOP voters, followed by Romney with 23 percent, former U.S. House of Representatives Speaker Newt Gingrich with 17 percent, and Paul with 13 percent.
Another poll released the same day by Rasmussen Reports shows Romney trailing Santorum when it comes to a battle with Democratic President Barack Obama. According to the poll, Santorum has a four-point deficit in a duel with Obama, while Romney has a seven-point deficit in a match with the incumbent.
In addition, Santorum is also leading in polls covering a number of state primaries such as those in Georgia and his home state of Pennsylvania. His surge is a bad news for Romney, who is struggling hard to retain his support among conservatives. Although the CPAC and Maine wins suggest a Romney recovery, the path to getting nominated is not going to be an easy one for him.
The PPP poll analysts point to a drop in Romney's popularity among Republican conservatives and Tea Party supporters -- the most important segments in the nomination phase of the campaign. According to the poll, Santorum is dominating the right-leaning segments of the party: 53 percent of the voters who describe themselves as conservatives prefer Santorum; 20 percent of them prefer Gingrich; and only 15 percent of them prefer Romney.
Interestingly, it is Gingrich's presence in the race that is saving Romney, according to the PPP poll analysts. Answering a question about who they would back were Gingrich to drop out of the race, 58 percent of his supporters said they would back Santorum, 22 percent said they would go for Romney, and 17 percent said they would support Paul. In such a scenario, 50 percent of the overall GOP vote would go to Santorum, 28 percent to Romney, and 15 percent to Paul.
It is going to be an uphill task for Romney to block Santorum, who is considered to have better conservative credentials than he does. Meanwhile, a dramatic surge for Santorum could mean a complete revival of the candidate's hopes and an increase in campaign funds. If Santorum can translate his surge into a better campaign organization and even more funds, then he could keep the Republican presidential race competitive for a long time.
© Copyright IBTimes 2023. All rights reserved.