MLB News: World Series Betting Odds After Trade Deadline Favor Royals, Dodgers While Mets Surge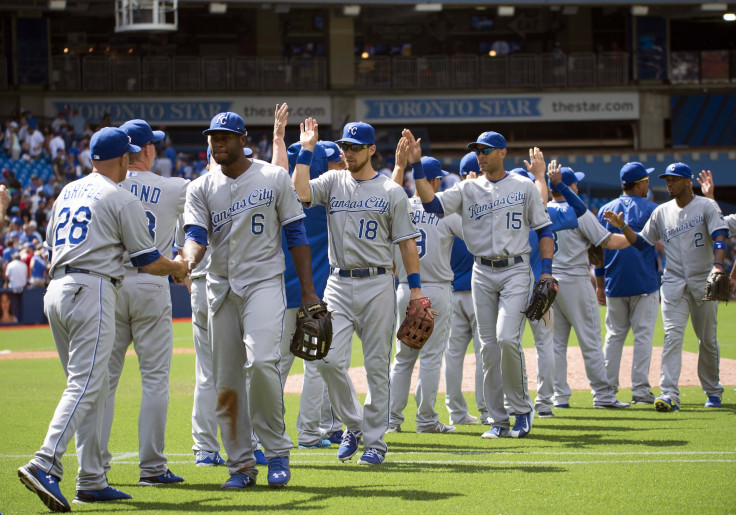 With the MLB non-waiver trade deadline in the rearview mirror, there is less than 60 games remaining on the schedule and a renewed push from above-.500 teams to make the postseason. Roughly 14 teams with winning records are competing for six division championships and four wild-card positions following a flurry of deals at the end of July.
On July 16, the Kansas City Royals were ahead of the pack as 6/1 favorites, according to Bovada.lv, but have improved to 9/2. VegasInsider.com has the Royals at 4/1 to win the World Series. The Royals added ace right-hander Johnny Cueto in a deal with the Cincinnati Reds. The defending American League champs also added switch-hitting outfielder Ben Zobrist.
There are some other interesting aspects of baseball's futures betting odds. The Los Angeles Dodgers, who added starting pitchers Mat Latos and Alex Wood in July, have a stronger chance (7/1) of winning the World Series than the St. Louis Cardinals (8/1), but L.A. has a weaker chance (3/1) of reaching the Fall Classic than St. Louis (5/2). In the AL, the Royals are 8/5 favorites to reach the World Series, followed by the New York Yankees (4/1), Los Angeles Angels (11/2) and Houston Astros (6/1).
The Yankees made a solid gain in two weeks, going from 16/1 to win the World Series (ninth overall) to the fifth best odds at 10/1 (fifth). The Astros previously had the ninth best odds (16/1) of winning the World Series in mid July, but have climbed to sixth (12/1).
But one of the most interesting teams is the New York Mets, who traded for Yoenis Cespedes, Juan Uribe and Kelly Johnson to bolster their weak-hitting roster. On July 16, the Mets had 40/1 odds to win the World Series. Now they are 15/1 favorites.
Here are the complete odds to win the 2015 World Series, according to Vegas Insider:
Kansas City Royals 4/1
Los Angeles Dodgers 7/1
St. Louis Cardinals 8/1
Washington Nationals 9/1
New York Yankees 10/1
Houston Astros 12/1
San Francisco Giants 12/1
Los Angeles Angels 15/1
New York Mets 15/1
Pittsburgh Pirates 15/1
Toronto Blue Jays 16/1
Chicago Cubs 18/1
Minnesota Twins 35/1
Detroit Tigers 45/1
Baltimore Orioles 50/1
Tampa Bay Rays 50/1
Chicago White Sox 60/1
Cleveland Indians 60/1
San Diego Padres 60/1
Seattle Mariners 90/1
Boston Red Sox 100/1
Texas Rangers 100/1
Arizona Diamondbacks 200/1
Atlanta Braves 200/1
Oakland Athletics 250/1
Cincinnati Reds 500/1
Colorado Rockies 500/1
Miami Marlins 500/1
Milwaukee Brewers 500/1
Philadelphia Phillies 5000/1
© Copyright IBTimes 2023. All rights reserved.