MLB Payrolls 2018: Red Sox Rank Ahead Of Dodgers, Yankees As Biggest Spenders Before Opening Day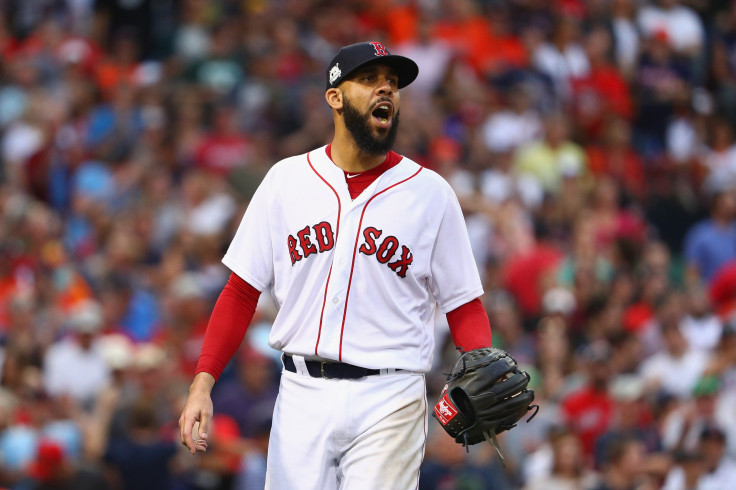 It might surprise baseball fans to learn which team will start the 2018 MLB season with the highest payroll. The Boston Red Sox are set to pay their players more than any other team, ranking well ahead of both the Los Angeles Dodgers and New York Yankees.
Payrolls will change over the course of the season because of trades, though neither the Yankees nor the Dodgers are expected to surpass MLB's $197 million luxury tax threshold. The San Francisco Giants will spend more money on salaries than both teams. The Chicago Cubs and Washington Nationals also rank near the top of the list.
Let's take a look at all 30 MLB payrolls at the end of 2018 spring training, via Spotrac.
1) Boston Red Sox: $234,600,428
Boston made one of the biggest splashes in free agency by giving J.D. Martinez a five-year, $110 million contract. The outfielder is now the fourth player on the team that makes more than $20 million per year. David Price leads the Red Sox with a $30 million salary in 2018.
2) San Francisco Giants: $206,909,777
San Francisco made a few major acquisitions after posting MLB's worst record a season ago, trading for Evan Longoria and Andrew McCutchen, both of whom will make around $12 million in 2018. The Giants will have close to $32 million in salary on the disabled list to start the season with both Madison Bumgarner and Jeff Samardzija suffering injuries in spring training.
3) Los Angeles Dodgers: $186,135,711
This is the first time since 2013 that the Dodgers don't have the league's highest payroll. L.A. didn't re-sign Yu Darvish or land any significant free agents, saving their money after leading baseball with 104 regular-season wins. Los Angeles has won the NL West with more than 90 victories in each of the last five years.
4) Chicago Cubs: $182,951,139
Darvish went from L.A. to Chicago, though his $25 million salary doesn't even make him the highest-paid member of the Cubs' rotation. Both Jon Lester and Jason Heyward will earn more money this season as Chicago tries to reach their fourth straight NLCS.
5) Washington Nationals: $181,349,058
Washington might be the biggest threat to the Dodgers and Cubs in the National League. It could also be Bryce Harper's last season with the Nationals. The outfielder will earn $21.6 million in his final season before free agency, and he could earn a contract worth at least $400 million next offseason.
6) Los Angeles Angels: $174,018,499
Los Angeles will have MLB's highest-paid player in 2018 when Mike Trout makes just north of $34 million. The outfielder has proved to be worth every penny, and it took his first career DL stint to prevent Trout from finishing in the top-two in AL MVP voting for the first time since 2011. Shohei Ohtani will only make a base salary of $545,000 with a $2.315 million signing bonus in his first big-league season.
7) New York Yankees: $165,803,032
Expectations haven't been this high for the Yankees in a few years, but it's not because they spent a ton of money in the offseason. Sure, they traded for reigning NL MVP Giancarlo Stanton, but New York made a conscious effort to stay well below the luxury tax threshold. Sluggers Aaron Judge and Gary Sanchez will earn just over $620,000 each in 2018.
8) Seattle Mariners: $160,797,942
Seattle hopes having a top-10 payroll will be good enough for the team to end the longest playoff drought in all of American sports. The Mariners traded for shortstop Dee Gordon and his $10.8 million salary in 2018. The left side of Seattle's infield will earn $43 million this season.
9) Houston Astros: $159,507,370
More than a quarter of the league has a higher payroll than the defending champions, who arguably got even better in the offseason. Houston traded for Gerrit Cole, who'll only make $6.75 million in 2018. AL MVP Jose Altuve just signed a five-year, $151 million contract, though the extension won't go into effect until the 2020 season.
10) Toronto Blue Jays: $158,653,652
Toronto has a nearly identical payroll as they did a year ago, even after letting Jose Bautista walk in free agency. Troy Tulowitzki and his $20 million salary will start the season on the DL, while Josh Donaldson could be entering his final season with the Blue Jays as he makes $23 million.
11) New York Mets: $155,143,844
New York signed Jay Bruce in free agency, and his base salary of $10 million makes him the second-highest healthy player on the roster. David Wright is set to earn another $20 million, even though back issues might prevent the third baseman from ever playing again.
12) St. Louis Cardinals: $145,850,666
St. Louis has missed the playoffs in consecutive years for the first time since 2008. They traded for Marcell Ozuna in the offseason, and his $9 million salary makes him the Cardinals' fourth-highest paid position player. Adam Wainwright and his $19.5 million salary will start the season on the DL.
13) Baltimore Orioles: $143,074,615
Baltimore is looking to rebound from a last-place finish in the AL East, though it's going to be difficult to compete with New York and Boston. The Orioles gave pitcher Alex Cobb a $57 million contract toward the end of spring training.
14) Colorado Rockies: $143,001,500
Colorado is coming off their best season in eight years, reaching the playoffs for the first time since 2009. Nolan Arenado and Charlie Blackmon both had top-five NL MVP finishes. The Rockies' biggest move of the offseason was signing closer Wade Davis to a contract that will pay him $16 million in 2018.
15) Texas Rangers: $141,464,916
Texas didn't have a very active offseason. Cole Hamels and Shin-Soo Choo will both return and make $20 million, while Adrian Beltre is set to make $18 million.
16) Cleveland Indians: $137,348,865
Cleveland might be getting more value from their players than any other franchise. The Indians had the AL's best record a year ago with an average payroll, and they are legitimate World Series contenders for a third straight season. No one on the team makes $20 million a year, and only five players are set to earn eight figures in 2018.
17) Arizona Diamondbacks: $131,952,116
Arizona would have a payroll near $100 million if it wasn't for Zack Greinke's enormous contract. Paul Goldschmidt is one of baseball's biggest bargains with an $11 million salary. The Diamondbacks made the NLDS as a wild-card team in 2017.
18) Detroit Tigers: $131,611,000
A lot has changed for Detroit within the last year. The Tigers dropped 15 spots in the payroll rankings, trading both Justin Verlander and Justin Upton. They had the American League's worst record in 2017. They'll still be paying Miguel Cabrera, Jordan Zimmerman and Victor Martinez a combined $72 million this season.
19) Minnesota Twins: $131,318,226
Minnesota is looking to build off of last year's surprising run to the postseason. They traded for Jake Odorizzi, who'll be their Opening Day starter, and gave Lance Lynn a $12 million contract.
20) Kansas City Royals: $127,579,817
Kansas City watched Eric Hosmer and Lorenzo Cain sign elsewhere for a combined $224 million. They kept Mike Moustakas on a one-year deal that only guarantees him $6.5 million.
21) Atlanta Braves: $117,492,707
Atlanta is probably going to have to wait at least one more year before they can think about contending for a playoff spot. The Braves have won fewer than 80 games in each of the last four seasons, and they haven't won a postseason series since 2001.
22) Cincinnati Reds: $99,392,499
Cincinnati didn't make any notable signings in free agency, and they lost Zack Cozart to the Angels. Joey Votto will make $25 million after nearly winning the NL MVP award.
23) Philadelphia Phillies: $96,821,301
Philadelphia made a big splash in the middle of their rebuilding process by giving Jake Arrieta a three-year, $75 million contract. The Phillies also signed Carlos Santana for $60 million over three years, making them the only two players on the roster that will earn more than $10 million this season.
24) Miami Marlins: $95,676,642
It's kind of amazing that Miami doesn't rank lower than 24th. The team shipped off their entire starting outfield in the offseason, and they don't even have one player that makes $15 million.
25) San Diego Padres: $93,812,233
San Diego's payroll took a significant jump with the signing of Eric Hosmer. The first baseman will take up more than 22 percent of the Padres' payroll.
26) Milwaukee Brewers: $92,780,700
Milwaukee nearly landed the NL's second wild-card spot in 2017, despite starting the season with MLB's lowest payroll. The Brewers weren't shy about adding payroll in the offseason, signing Lorenzo Cain and trading for Christian Yelich.
27) Pittsburgh Pirates: $87,332,499
After finally putting together some good seasons from 2013-2015, it's back to being one of MLB's worst teams for Pittsburgh. The Pirates followed up a 75-87 season by trading both Andrew McCutchen and Gerrit Cole. Francisco Cervelli is the team's highest-paid player with a $10.5 million salary for 2018.
28) Tampa Bay Rays: $77,674,329
Tampa's payroll fell below $80 million after the team traded Evan Longoria and Jake Odorizzi and decided not to re-sign Alex Cobb. Chris Archer's name has popped up in trade rumors, and he's the Rays' highest-paid pitcher.
29) Chicago White Sox: $70,191,000
Chicago has made several trades since the conclusion of the 2016 season with an eye on the future. They've traded the likes of Chris Sale, Jose Quintana, David Robertson and Todd Frazier while putting together one of the best farm systems in baseball.
30) Oakland Athletics: $67,480,833
When Oakland signed Jonathan Lucroy to a one-year, $6.5 million contract, he became the second-highest paid player on the team. Khris Davis leads the A's with a $10.5 million salary.
​​
FOR FREE to continue reading
✔️ Unlock the full content of International Business Times UK for free
offer available for a limited time only
✔️ Easily manage your Newsletters subscriptions and save your favourite articles
✔️ No payment method required
Already have an account? Log in
© Copyright IBTimes 2023. All rights reserved.