MLB Predictions 2021: Standings, Playoffs, World Series Pick Before Opening Day
Following an unusually short MLB season that featured an expanded postseason, baseball is back with its traditional 162-game schedule. Three division winners and two wild-card teams in each league will make the playoffs and compete for the championship in October.
Entering Opening Day, the Los Angeles Dodgers and New York Yankees are, once again, the biggest spenders and the favorites to win the pennant. Some recent World Series champions, like the Boston Red Sox and Chicago Cubs, could be in for an unusually long season.
Here are predictions for the 2021 MLB season, including complete standings, playoff teams and the World Series winner.
AL East
The Yankees have the most talent-rich roster in the American League. Giancarlo Stanton and Aaron Judge are two of MLB's top sluggers when they're healthy, while D.J. LeMahieu has been an MVP candidate in 2019 and 2020. Gerrit Cole leads a rotation that is filled with questions, but the potential is there for New York to have one of the league's best pitching staffs. Tampa Bay traded away its ace, though the Rays' pitching depth makes them a playoff threat. Toronto is a year away from being a true contender. The Boston Red Sox need better pitching and the Baltimore Orioles are still a long way from competing in the East.
1) New York Yankees
2) Tampa Bay Rays (First Wild-Card)
3) Toronto Blue Jays
4) Boston Red Sox
5) Baltimore Orioles
AL Central
Cleveland's offseason firesale has made it a two-team race between the Chicago White Sox and Minnesota Twins. Chicago has some of the sport's best young players, though injuries and inexperience could hold them back. Minnesota has won two straight division championships. A steady rotation and an underrated lineup could extend that streak to three in a row. Like the Indians, the Kansas City Royals and Detroit Tigers are looking to rebuild.
1) Minnesota Twins
2) Chicago White Sox (Second Wild-Card)
3) Kansas City Royals
4) Cleveland Indians
5) Detroit Tigers
AL West
The Oakland A's have not gotten the respect they deserve with the equivalent of three straight 97-win seasons. The A's replaced the Houston Astros as the division's top team last year. Houston didn't exactly get better with the departure of George Springer and a serious injury to Framber Valdez. Oakland starter Chris Bassit is coming off a top-10 Cy Young campaign, and Matt Chapman could return to MVP-caliber form after an injury-plagued 2020 season. The Los Angeles Angels may need more depth to reach the postseason, while the Texas Rangers and Seattle Mariners are among the worst teams in the league.
1) Oakland Athletics
2) Houston Astros
3) Los Angeles Angels
4) Texas Rangers
5) Seattle Mariners
NL East
It wouldn't be a shock to see almost any team win this division. The Atlanta Braves still look like the favorite after winning three straight NL East titles and nearly reaching the 2020 World Series. Ian Anderson is a legitimate Cy Young candidate and Ronald Acuna leads an offense that's ranked near the top of the league in consecutive seasons. This could be the year that all of the recent offseason additions finally pay off for the Philadelphia Phillies, who was undone by an awful bullpen last season. Jacob deGrom and Francisco Lindor make the New York Mets contenders, as well. The Washington Nationals and Miami Marlins look like longshots.
1) Atlanta Braves
2) Philadelphia Phillies (Second Wild-Card)
3) New York Mets
4) Washington Nationals
5) Miami Marlins
NL Central
This might be the most wide-open division in all of baseball. The reigning champion Chicago Cubs took a step back in the offseason and could potentially unload more of their top players if the team gets off to a slow start. The Cincinnati Reds lost their ace in free agency. The Pirates might be MLB's worst team. The division could come down to the Milwaukee Brewers and St. Louis Cardinals with the Cards' addition of Nolan Arenado making the difference. St. Louis has posted a winning record in 13 straight seasons.
1) St. Louis Cardinals
2) Milwaukee Brewers
3) Cincinnati Reds
4) Chicago Cubs
5) Pittsburgh Pirates
NL West
Coming off eight straight division titles and a World Series championship, the Dodgers might be even better in 2021. The addition of reigning Cy Young winner Trevor Bauer gives Los Angeles one of the best rotations in recent memory. The Dodgers lineup features three MVP candidates in Mookie Betts, Cody Bellinger and Corey Seager. San Diego would be the favorite in any other division, as the Padres traded for a pair of No. 1 starters in Blake Snell and Yu Darvish. Fernando Tatis Jr. and Manny Machado headline one of the NL's most dangerous lineups. Don't expect much from the Colorado Rockies, San Francisco Giants and Arizona Diamondbacks.
1) Los Angeles Dodgers
2) San Diego Padres (First Wild-Card)
3) San Francisco Giants
4) Arizona Diamondbacks
5) Colorado Rockies
World Series Pick: Yankees over Braves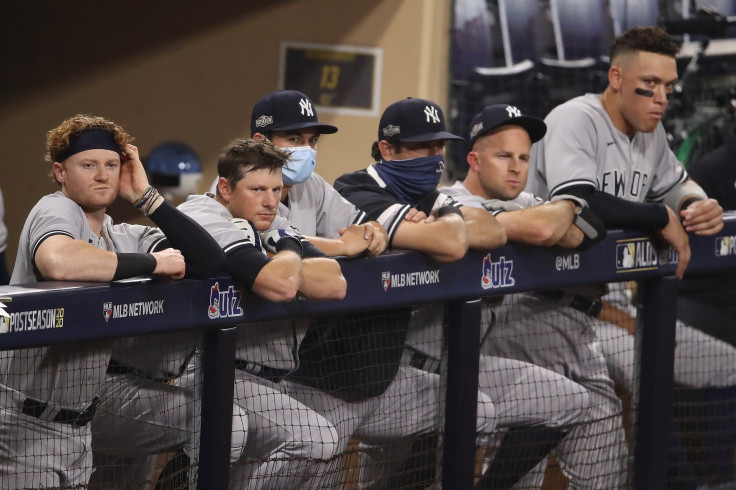 © Copyright IBTimes 2023. All rights reserved.