MLB Rumors: Latest On David Price, Zack Greinke And Other Free Agents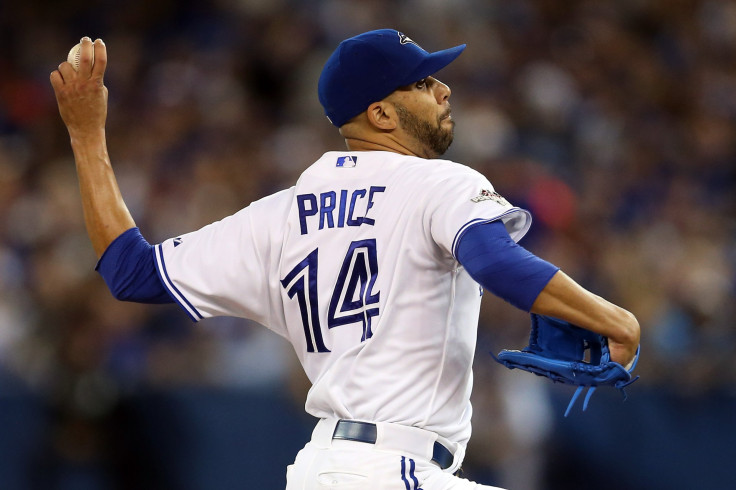 The first major deal of the MLB offseason was agreed upon this past weekend when the Detroit Tigers signed starting pitcher Jordan Zimmerman to a long-term contract. The move could start a domino effect that ends with a few of the league's best players changing teams.
Zimmerman was among the best free agents available, but he is a tier below the elite players who are seeking new deals. The 29-year-old will reportedly make $110 million over five years, setting the stage for pitchers like David Price and Zack Greinke to sign deals worth almost twice as much money.
Price will make more money than any pitcher this offseason. Max Scherzer signed a seven-year contract worth $210 million a year ago, and Price could be in line for a similar payday.
After finishing second in voting for the American League Cy Young award, Price is being sought after by several teams. But it doesn't appear that one of those teams is the Toronto Blue Jays, whom Price helped reach the playoffs for the first time in 22 years.
According to Ken Rosenthal of FOX Sports, the Boston Red Sox, Los Angeles Dodgers, Chicago Cubs, San Francisco Giants and St. Louis Cardinals are all interested in signing Price. Those same teams have been linked to Greinke, who could command more money per year than Price on a shorter overall contract. Price is two years younger than Greinke, making him the more attractive free agent option, and one team stands out as the frontrunner to sign him.
Boston might not be Price's preferred destination, but the team's checkbook gives them an advantage over the rest of the league. In addition to multiple reporters pegging Boston as Price's eventual destination, six MLB general managers have told Peter Gammons that they believe Price will end up with the Red Sox.
"I just think that Dombrowski loves him and he is part of the job Dave took," one GM told Gammons. Red Sox President of Baseball Operations Dave Dombrowski traded for Price when he was with the Tigers in 2014, and he has the money to sign him to a lengthy contract.
The Cubs were once thought to be the favorites to sign Price, but even if Chicago is the left-hander's preferred destination, he might sign with the Red Sox. One GM told Gammons that he thinks Boston will offer Price between $30 million and $40 million more than any other team. Rosenthal reports that Chicago can only afford one marquee free agent, and Price might be out of the Cubs' price range.
If Price decides to sign elsewhere, the Red Sox could become major players for Greinke. For now, the Dodgers and Giants seem to have the best odds of signing the NL Cy Young runner-up.
Johnny Cueto will get the biggest contract of any pitcher not named David Price or Zack Grienke. According to mlb.com, Cueto rejected a six-year, $120 million offer from the Arizona Diamondbacks.
© Copyright IBTimes 2023. All rights reserved.