MLB Rumors: Manny Machado Meeting Yankees, Phillies, White Sox, 3 Mystery Teams
It comes as no surprise that free agent shortstop Manny Machado will be meeting with a number of teams during the Winter Meetings.
The 26-year-old, along with Bryce Harper, is one of the biggest free agents available on the market and is expected to command a very lucrative contract.
And according to Jon Heyman of FanCred Sports, Machado will meet the New York Yankees, Philadelphia Phillies, Chicago White Sox, and interestingly, three other mystery teams.
The teams that were mentioned are not surprising at all. While the Yankees reportedly do not want to pay him $300 million, he fills their shortstop needs with Didi Gregorius having undergone Tommy John surgery in October.
There are also recent rumors that the Yankees are open to dealing American League Rookie of the Year runner-up Miguel Andujar which could indicate a renewed interest in signing Machado, who could take Andujar's place at third base.
The Phillies, meanwhile, have more money to spend than any other team and have been linked with both Machado and Harper as they look to win a World Series for the first time since 2008.
As for the White Sox, Machado's arrival could make them contenders as they continue their rebuild. Like Philadelphia, they are also interested in Harper but their pursuit of either player will likely depend on how much they're willing to offer.
So with those teams aside, who could the three mystery teams be? Dayn Perry of CBS Sports speculated, with no inside knowledge, that the trio could be the Chicago Cubs, Los Angeles Angels and the San Diego Padres.
For the Cubs, it all depends on their willingness to spend.
"Installing Machado as shortstop would allow Javier Baez to remain at second base," Perry wrote. "In the event that the infield does become a bit more crowded, that will allow Kris Bryant to spend more time at the outfield corners. Either way, Machado's right-handed power bat would be a nice fit for Wrigley Field."
With the Angels, Perry speculates that barring another contract extension for Mike Trout who has two years remaining, it makes sense to spend on the Dominican.
"As long as Machado is willing to go back to third base (it would make no sense to dislodge Andrelton Simmons at short), he'd be a very sensible addition for GM Billy Eppler. Zack Cozart is under contract through 2020, but he also played short and second last season," he added. "You shift him to a utility role and let Machado upgrade a third base corps that last season hit .220/.278/.369."
Lastly, Perry believes with the Padres looking likely to spend in the winter, Machado fits their short-term and long-term plans.
"Wil Myers right now is penciled in at third base, and that's obviously not an ideal situation. Myers could be shifted back to the outfield to make room for Machado at third," Perry concluded. "As well, the Padres have a need for a shortstop until Fernando Tatis Jr. is ready for the highest level. Perhaps Machado could pin down his preferred position until Tatis arrives for good (or perhaps they'd be willing to shift Tatis in deference to Machado)."
"In any event, Machado's young age means he fits the Padres' near-, mid-, and long-term plans, and he would no doubt invigorate a fan base that could use a little invigorating," he said.
Machado hit .297/.367/.538 with 37 home runs, 35 doubles, three triples and 107 RBI during the 2018 season.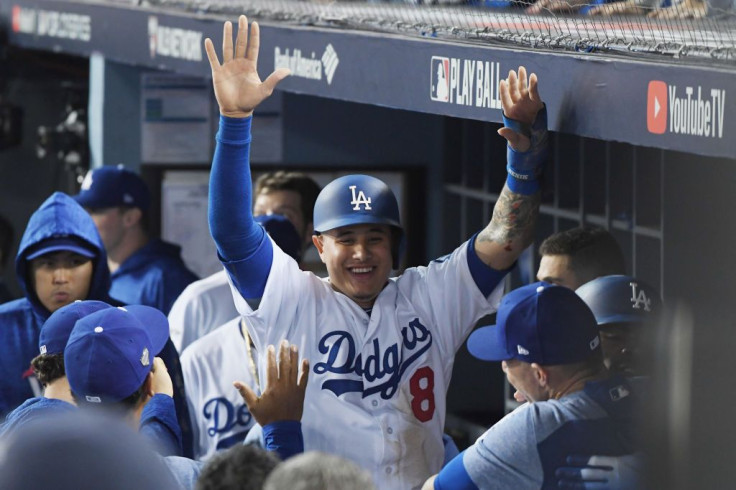 © Copyright IBTimes 2023. All rights reserved.