MLB Rumors: Porn Site Offers Scherzer, Romo And 5 Others $100K To Perform 'X-Rated' Show
KEY POINTS
Some MLB pitchers are not happy about the league's new rule regarding banned substances
A porn site has offered Max Scherzer, Sergio Romo, and others an "x-rated" job
A former MLB pitcher suggests players should be allowed to hurt umpires during checking
The MLB's in-game checking of sticky substances has prompted a porn site to make a shocking job offer to a host of pitchers.
Some MLB pitchers are already unhappy in the first few days of enforcing the substance checking during games.
The said procedure basically requires the pitchers to unbuckle their pants and drop their own trousers in front of a number of umpires in between inning, something famous adult site "CamSoda" has found interesting.
Following the in-game substance checking of Washington Nationals' Max Scherzer and Oakland Athletics' Sergio Romo, CamSoda has proposed a $100,000 job offer for the pair and five other MLB pitchers.
The said job is to perform an hour-long, "x-rated" webcam show for the site's fans, baseball outlet Jomboy Media reported.
"CamSoda–a leading adult entertainment webcam platform–has issued a $100K offer to the following MLB pitchers–Max Scherzer, Sergio Romo, Jacob deGrom, Gerrit Cole, Trevor Bauer, Zack Wheeler and Yu Darvish–to drop trou[sers] and undo their belts during a 1-hour long X-rated webcam show," the statement read.
While the bizarre offer has yet to come to fruition, one thing certain at the moment is that most of the pitchers who have been checked don't like the MLB's protocol.
It can be recalled that Scherzer appeared to be not too thrilled with the new rule as he was seen having a few words with the umpires on Tuesday.
"These are [MLB commissioner Rob] Manfred rules," Scherzer said after Washington's 3-2 victory about the substance checking. "Go ask him. I've said enough."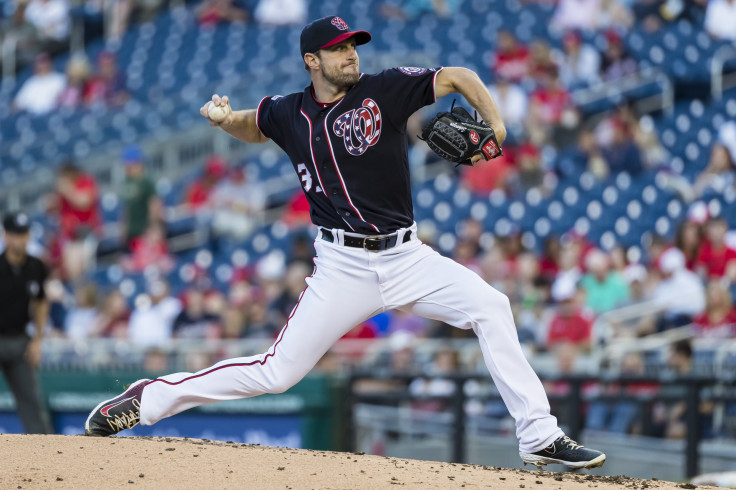 Despite already being retired, former New York Yankees pitcher David Wells is also not in favor of the league's seemingly controversial procedure.
According to Wells, pitchers should be allowed to freely express their disgust on the matter by being physical with the umpires.
"Right now with the game going…I mean, I hate umpires," Wells recently said on Barstool Sports podcast. "I'd have to find something we could do away with these umpires. What we should do is you should be able to bump them and do whatever."
"Actually you should be able to punch one of them if you want," he stressed. "Because there are a couple of guys I wanted to punch over time. But you know, with the umpires they ruin the game I think. They're right a majority of the time and there are some great umpires, don't get me wrong. But it's those ones that are douchebags, we should have free will at them."
© Copyright IBTimes 2023. All rights reserved.