MLB Standings 2022: Mets, Dodgers Have NL's Best Records After Series In Los Angeles
The New York Mets (37-19) and Los Angeles Dodgers (35-19) split a four-game series over the weekend in what might prove to be a National League Championship Series preview. Through one-third of the MLB season, the Mets and Dodgers have separated themselves as the favorites to win the NL pennant.
The Mets are atop the NL standings with the league's best record. The Dodgers trail New York by one game for the No. 1 seed. Only the New York Yankees (39-15) have a better record in baseball.
Los Angeles briefly took over the top spot in the NL by defeating New York in back-to-back contests. The Dodgers showed why they have the NL's best pitching staff, holding the Mets to a single run over two games. New York salvaged a series split with consecutive comeback wins at Dodger Stadium on Saturday and Sunday, bolstered by one of MLB's best lineups.
The Dodgers rank first in the NL with a 2.74 ERA and 290 runs scored. The Mets are fourth in ERA, second in runs scored and first with a .264 batting average.
Pete Alonso hit two home runs in New York's first victory against Los Angeles. The Mets first baseman leads the majors with 54 RBI. Alonso and Dodgers outfielder Mookie Betts are tied for the NL lead with 16 home runs.
The San Diego Padres (33-21) have the NL's third-best record and are the Dodgers' biggest threat in the division. The Padres had MLB's best record a season ago but finished under .500 and out of the playoff race.
The Mets are tied for the biggest division lead in baseball with an 8.5-game edge on the Atlanta Braves. Atlanta is the first team out of the NL wild-card race.
Baseball-Reference estimates that the Mets have a 99.1% chance of making the playoffs. The Dodgers' playoff chances are listed at 99.9%.
It's been a decade since the Dodgers missed the postseason. Los Angeles is on pace to win at least 105 games for the third straight full season. The Dodgers' 43-17 record in the pandemic-shortened 2020 season, which ended with a Los Angeles championship, was good for a 116-win pace over 162 games.
The Dodgers lead MLB with a plus-113 run differential. The Mets' plus-76 run differential is second in the NL.
The Milwaukee Brewers, the NL's third division leader, have only outscored their opponents by 26 runs.
The teams that finish the regular season with the NL's two-best records will automatically advance to the NLDS. The other four NL playoff teams will compete in a three-game wild-card series.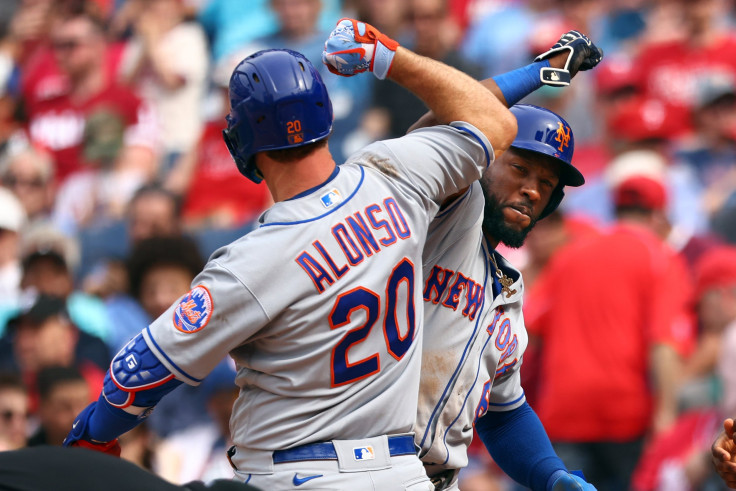 © Copyright IBTimes 2023. All rights reserved.