Cuba And MLB: Amid Defections, Cuban Baseball Stars May Get New Path To The Majors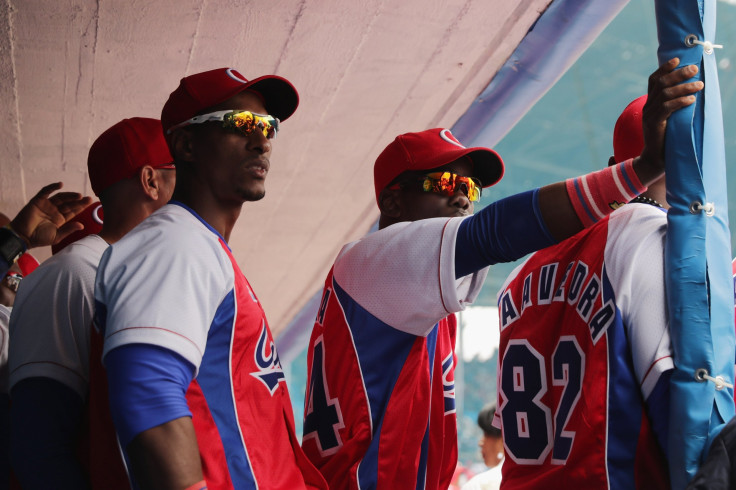 Tampa Bay Rays outfielder Dayron Varona exited Cuba with his mother to travel on a boat 12 fearsome hours to Haiti, leaving behind the rest of his family on a trip he'd call "a memory that you don't want to remember." Varona defected from his homeland out of despair, facing incredible danger while chasing down his dream of playing in Major League Baseball (MLB).
But amid easing relations between Havana and Washington, baseball players like Varona may soon no longer have to risk their lives to play big-league ball. MLB has begun working with the Cuban government to create a way for players to get to the U.S. under newly eased work rules. Should that happen, the country of about 11 million could become a prime source of ballplayers for the majors, rivaling just about any other nation, including the Dominican Republic, long a deep pool of talent for MLB.
"I think some day, whether it's five years, 15 years, 20 years, Cuba will look like the Dominican Republic or Venezuela," said Joe Kehoskie, a former baseball agent who worked extensively with Cuban defectors, referring to the two foreign countries that feed the most players into MLB.
About three years after his harrowing boat trip, Varona is set to make an improbable return to Cuban baseball Tuesday, playing with the Rays against the island country's national team in a historic exhibition game in Havana. In 1999, the Baltimore Orioles played in a similar game that didn't effectively change much between the nations. The trip for the Rays is different. Top MLB officials are coming along, including the commissioner, and the game coincides with a pickup in talks between the countries that has culminated in President Barack Obama's visit to Cuba, the first such trip by a U.S. president in almost 90 years.
A few major roadblocks have already been cleared toward making life easier for Cubans hoping to play in the big leagues. Obama last week made it legal for Cuban citizens to work in the U.S. and receive salaries from American companies, which means the 30 MLB teams can directly sign players.
"The implication for baseball is both potentially immediate and profound," Matthew Aho, a special adviser on Cuba at the New York law firm Akerman, said in a phone call from Havana, where he was working with clients. "There's always been a huge incentive to try and seek contracts with Major League Baseball teams ... despite these incentives, there has never been a good system, or a decent system, for Cuban players."
In the past, Cuban players had to defect and then establish residency elsewhere, frequently in either the Dominican Republic or Haiti on the Caribbean island of Hispaniola. Subsequently, the players had to apply for licenses to work through the U.S. Treasury Department.
That system resulted in star Cuban ballplayers enduring perilous journeys, often relying on human traffickers, which could sometimes conclude with the players being held for ransom. One notable case of this kind involved Los Angeles Dodger star Yasiel Puig, who was allegedly threatened by mobsters seeking money related to his escape to the U.S.
MLB Commissioner Rob Manfred said last week that "those are exactly the burdens we're interested in alleviating," according to the Miami Herald. "We're all aware of the stories that have been written and told, and we think the only way to deal with the potential problem associated with that is a free and open system."
But complications remain. Under current embargo rules, MLB teams wouldn't be allowed to compensate Cuban teams for players because the league is government-run and any payments would constitute illegally sending funds to the communist country. That could prove a nonstarter for Cuban baseball officials.
Meanwhile, MLB has proposed a plan that would navigate around the rules by putting a percentage of players' salaries into a Cuban entity designed to function as a nonprofit organization, which would then use that money to support youth baseball, improve sports facilities and fund education. It's unclear whether either the U.S. Treasury Department or the Cuban government would be willing to accept such a deal.
Akerman's Aho said the U.S. has taken the first step toward a "middle road," and Cuba could push the process along by creating a self-employment exception for athletes or by permitting a cooperative of athletes to negotiate with outside parties.
"Both sides certainly seem willing to discuss creating a better framework," Aho said. "What is clear is there would have to be certain changes in Cuba, changes tend to be slow in Cuba, but there are very strong incentives."
With the countries growing increasingly open to one another, there will likely be even more interest in the U.S. from Cuban ballplayers. "We're going to have more players gravitating toward the States. What will impact the flow is the kind of relationship the MLB establishes with Cuban baseball," said Adrian Burgos, a professor of history at the University of Illinois who focuses on U.S. Latino history and sports history, as well as the author of multiple books about baseball.
As it stands, no country outside the U.S. has a more direct pipeline to MLB than the Dominican Republic. Cuba had been been a significant source of talent, but when Fidel Castro came to power in 1959, he shut off that cheap pipeline to the big leagues.
Osvaldo "Ozzie" Virgil was the first Dominican MLB player, making his debut in 1956. Over time, the U.S. organization realized there was a bevy of talent and a passion for the game in the economically challenged country. They were largely amateurs with a deep love of baseball who didn't have decent facilities or a league. But in the 1980s, MLB saw that as an opportunity, and it began to build academies that nurtured talented players and frequently gave them an education. Many players saw baseball as a way out of poverty.
Now, all 30 MLB teams have training academies in the Dominican Republic after a steady, but massive influx of talent over the past few decades that saw franchises sign young Dominican players they could develop at relatively cheap prices. More than 80 players from the Dominican Republican made an Opening Day roster last season, the most of any country outside the U.S. by a relatively wide margin. Cuba had the third-most with 18, despite all the issues associated with its players getting to the U.S.
While MLB would certainly like to have the ability to cherry-pick the best young players in Cuba, there is a Cuban baseball infrastructure in place that could prove difficult to supplant. Cuban stars have typically trained within their home country's system and moved to the U.S. as developed players searching for a major-league contract. That's different from moving to the States as a young player with outsize raw talent.
"Part of the negotiation is how to ensure the continuation of that baseball talent development structure," said the University of Illinois' Burgos.
Cuba has already seen a good number of its most talented players flood out of the country seeking MLB riches. Stadiums are crumbling there, and the quality of play is falling off. The nation hasn't won a major international tournament in nearly a decade. The lure of multimillion-dollar contracts often outweighs a sense of national loyalty, and top ballplayers have increasingly defected. Most recently, star brothers Yulieski Gourriel, 31, and Lourdes Gourriel Jr., 22, left the Cuban national team while in the Dominican Republic last month.
"The last three years or so, the players have been leaving so quickly, even the people who follow this stuff can't keep up with it," former agent Kehoskie said. "The Cuban national team is barely a fraction of what the Cuban national team used to be. There isn't one player who is star caliber."
Cuban baseball officials have indicated they believe it's time to make a deal with the U.S., as fans have grown tired of their struggling domestic league. But despite the lack of starpower on the national team, there's a palpable excitement in Cuba's capital city over Tuesday's game, which could prove to be a milestone.
"I think it will be the perfect ending for what has already been a historic couple of days," Akerman's Aho said from Cuba over a crackly phone connection. It's "the hottest ticket" in Havana, he said.
© Copyright IBTimes 2023. All rights reserved.
FOLLOW MORE IBT NEWS ON THE BELOW CHANNELS