MLB Suspensions 2013: List of 13 MLB Players Suspended For Ties To BioGenesis Clinic, PED Use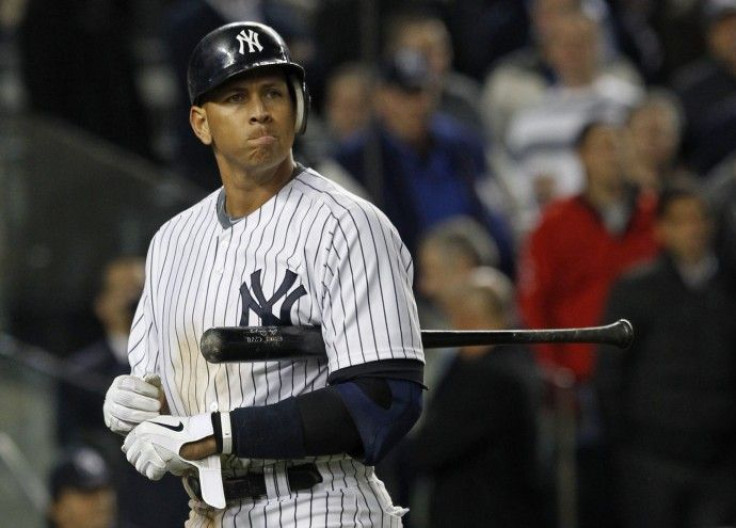 Major League Baseball will announce on Monday the suspension of 13 players, including New York Yankees slugger Alex Rodriguez, for PED use and ties to Tony Bosch's BioGenesis clinic.
The names of the 12 MLB players who have accepted suspensions from the MLB have begun to leak, per multiple outlets, including ESPN and Ken Rosenthal of Fox Sports. However, league officials have yet to make an official announcement regarding the suspensions, as Rodriguez has yet to accept a settlement and is expected to appeal the league's decision regardless of the suspension's length. However, sources told ESPN's "Outside The Line" that Rodriguez's suspension will likely run through the end of the 2014 MLB season, amounting to a 214-game penalty.
The 12 other MLB players will reportedly be accepting a 50-game penalty for their ties to BioGenesis, Fox Sports reports. Texas Rangers outfielder Nelson Cruz, Detroit Tigers shortstop Jhonny Peralta, Philadelphia Phillies relief pitcher Antonio Bastardo, Houston Astros relief pitcher Sergio Escalona, New York Mets farmhands Jordany Valdespin and Cesar Puello, San Diego Padres players Everth Cabrera and Fautino De Los Santos, New York Yankees players Francisco Cervelli and Fernando Martinez, Seattle Mariners catcher Jesus Montero and free agent pitcher Jordan Norberto will all reportedly accept 50-game suspensions.
Despite being named in the MLB's initial BioGenesis report, Bartolo Colon, Melky Cabrera and Yasmani Grandal will not face additional punishment for their alleged PED use, Fox Sports reports. All three men have already served 50-game suspensions for failed drug tests. In addition, Washington Nationals pitcher Gio Gonzalez and Baltimore Orioles third baseman Danny Valencia were cleared of any wrongdoing and will not be suspended.
Rodriguez, along with recently suspended Milwaukee Brewers star and fellow former MVP Ryan Braun, has long served as the face of the MLB's BioGenesis investigation. Braun's acceptance of a 65-game suspension legitimized the evidence garnered from Bosch's testimony and BioGenesis' records, and all but ensured that A-Rod would face a similar, if not lengthier ban of his own.
Regardless of the length of A-Rod's suspension, the Yankees slugger won't have to leave baseball just yet. An official with knowledge of the 38-year-old's suspension informed team officials that Rodriguez will be allowed to play for the Yankees while he appeals the penalty for his alleged ties to PED use, The Associated Press reports. Conversely, Rodriguez could potentially face a shorter suspension if he agrees to waive his planned appeal and declines to present his case to an arbitrator, the source notes.
List of Players Suspended For Ties to BioGenesis, PED Use
Alex Rodriguez
Nelson Cruz
Jhonny Peralta
Antonio Bastardo
Sergio Escalona
Jordany Valdespin
Cesar Puello
Everth Cabrera
Fautino de los Santos
Francisco Cervelli
Fernando Martinez
Jesus Montero
Jordan Noberto
© Copyright IBTimes 2023. All rights reserved.