MLB Trade News: Athletics Acquire Mike Fiers In 2018 Playoff Push, Chasing Yankees, Astros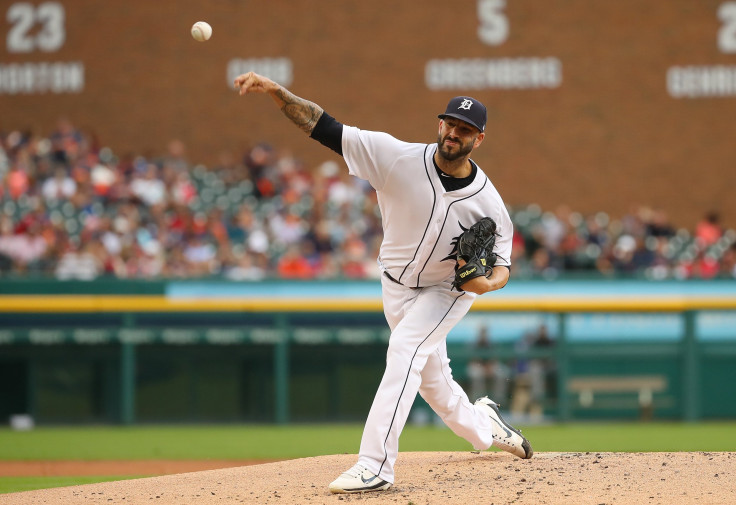 The Oakland Athletics made the first big splash since the 2018 MLB trade deadline by acquiring starting pitcher Mike Fiers from the Detroit Tigers. The deal puts the A's one step closer toward making the playoffs and competing for the World Series.
Oakland was able to execute the trade after claiming Fiers on revocable waivers. The Athletics were only forced to give up either two players to be named later or cash in exchange for a pitcher that was involved in trade rumors when the July 31 deadline was looming.
With the market for pitchers being relatively weak this summer, Fiers is among the best players that has changed teams in recent weeks. The right-hander is having a career year with a 3.48 ERA and a 1.24 WHIP in 21 starts.
Fiers, 33, is making $6 million this season and is eligible for arbitration in 2019. He made 28 regular-season starts for the defending champion Houston Astros in 2017 but didn't see any playoff action. The right-hander had a 5.22 ERA last season after going 11-8 with a 4.48 ERA in 2016.
Perhaps Fiers will come back down to earth after an impressive first fourth months of the year. Either way, he should improve an A's rotation that was in need of some help. Seven AL teams have a better ERA from their starters than the Athletics.
As arguably the biggest surprise of the season, the Athletics find themselves in the thick of the playoff race. They are four games behind the Astros in the AL West, though they are currently in the postseason. Oakland is 2.5 games behind the New York Yankees for the first wild-card spot, and they've got a 2.5-game lead on the Seattle Mariners for the second wild-card berth.
The Athletics have gained significant ground on the Yankees in recent weeks, winning six straight games as New York has lost five in a row. The Yankees suffered a four-game sweep at the hands of the Boston Red Sox at Fenway Park this past weekend.
Oakland has looked like MLB's best team over the last two months, tying Boston with a 36-15 record during that span. They were buyers at the trade deadline, acquiring reliever Jeurys Familia from the New York Mets. The Athletics also acquired reliever Shawn Kelly from the Washington Nationals this week.
No team had a lower payroll than Oakland at the start of the season. They are only eight victories shy of matching last year's win total, and the A's are looking to make the playoffs for the first time since 2014.
Oakland hasn't won a postseason series in 12 years. They last reached the World Series in 1990.
© Copyright IBTimes 2023. All rights reserved.