MLB Trade Rumors: 3 Former All-Stars That Could Be Dealt By 2018 Deadline
Multiple players from the 2018 All-Star Game have already been traded with Manny Machado and Zach Britton going to contenders. That might be it as far as players that participated in this year's contest, but other big names could be on the move.
The MLB trade deadline is set for Tuesday afternoon, and there are plenty of rumors regarding deals that could go down within the next few days. Teams like the New York Yankees, Boston Red Sox, Milwaukee Brewers and Philadelphia Phillies are looking to add players in pursuit of a championship.
Let's take a look at former All-Stars that could be moved by July 31.
Matt Harvey, Cincinnati Reds
The National League's starting pitcher in the 2013 All-Star Game and the 2015 NL Comeback Player of the Year was designated for assignment by the New York Mets a few months ago. The right-hander has since put up respectable numbers with the Reds, though those statistics took a hit when he gave up eight runs in just 3.2 innings in his last start. Harvey's next outing could determine what kind of package the NL Central's worst team can get for the 29-year-old. Harvey is 5-4 with a 4.50 ERA and a 1.22 WHIP in 13 starts for Cincinnati.
Adam Jones, Baltimore Orioles
First, it was Manny Machado. Then, it was Zach Britton. Expect Jones to be Baltimore's next free-agent-to-be that will be traded. Jones can still help a contender, though he's not the same player that was an All-Star each year from 2012-2015. He's got a .277/.304/.421 slash line with his lowest OPS since 2008. Jones has been with the Orioles for the last decade, hitting at least 25 home runs in each of the last seven seasons.
Mike Moustakas, Kansas City Royals
After making the American League All-Star team in 2015 and 2017, Moustakas signed a short-term deal with the Royals and has repeated his typical production in 2018. The first baseman still hits for power (20 home runs), though his inability to get on base at a high rate (.249/.309/.468) is what made him settle for a one-year contract in the offseason. Kansas City is in last place with no reason to keep Moustakas, and plenty of contenders seem interested in adding his bat to their lineup.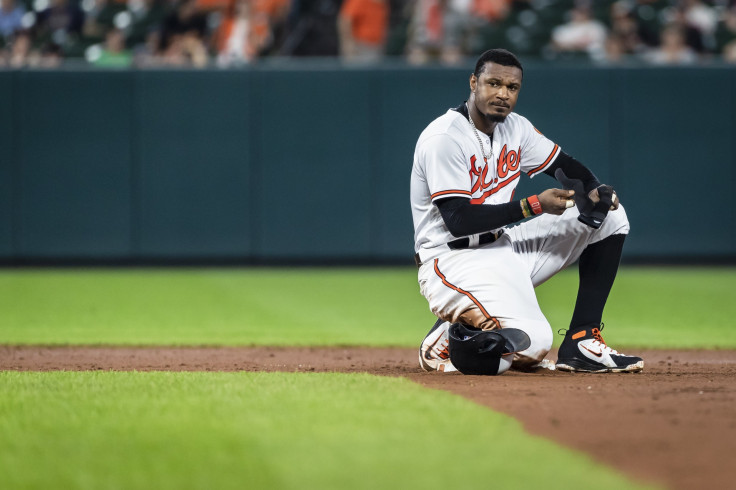 © Copyright IBTimes 2023. All rights reserved.