MLB Trade Rumors: JT Realmuto Sweepstakes Joined By Houston Astros
The interest in Miami Marlins catcher J.T. Realmuto is only increasing as the Houston Astros are the latest team interested in trading for him.
Clark Spencer of the Miami Herald recently reported the likes of the Cincinnati Reds, Tampa Bay Rays, Los Angeles Dodgers, San Diego Padres, Atlanta Braves, New York Yankees and Philadelphia Phillies were all interested in Realmuto, along with two other unknown teams.
One of those unknown teams may be the Astros as according to Marlins reporter Joe Frisaro, the 2017 World Series champions are back in the mix for Realmuto and could deal their top prospect in outfielder Kyle Tucker in a potential trade.
Frisaro noted the Padres, Dodgers and Rays among others also having an interest but there is no clear frontrunner at this point.
Realmuto would be a significant addition to an impressive Astros offense and trading a prospect like Tucker would make sense, especially after the arrival of Michael Brantley. In addition, the Marlins catcher is an upgrade over the likes of Max Stassi and Robinson Chirinos and would give Houston a better shot at competing for anther World Series.
But as mentioned earlier, there is interest from many teams as Realmuto is arguably the best available player in his "premium position" as a catcher.
"You're talking about a premium position, so there should be interest and I'm not surprised," Marlins president of baseball operations Michael Hill said of the interest in Realmuto. "But in terms of sheer volume that we'd had to work through, it has been unique."
"... There's not a lot of depth there [with catchers]. That's why I think there are so many different types of teams that have expressed interest. It's universal that you need the right guy behind the dish."
The New York Mets were previously interested in a trade and discussed various three-team and two-team deals, but ultimately gave up on their pursuit when they signed Wilson Ramos on a two-year, $19 million contract. They notably rejected a straight-swap for Realmuto that would have seen Noah Syndergaard go to Miami.
Realmuto finished the 2018 season with a 277/.340/.484 line, 21 home runs, 30 doubles and a 126 wRC+ in 125 games. He was also named as an All-Star for the first time in his career.
The 27-year-old has two years left on his Marlins contract, however, he became available on the market when his agent Jeff Berry revealed he would not sign an extension to his deal.
"[Realmuto] has informed the Marlins ownership, informed their front office that he's not going to sign an extension in Miami," Berry said in October. "From that standpoint, you can keep him for two years or not. It makes sense when you have one of the more valuable trade assets in baseball to move him, period."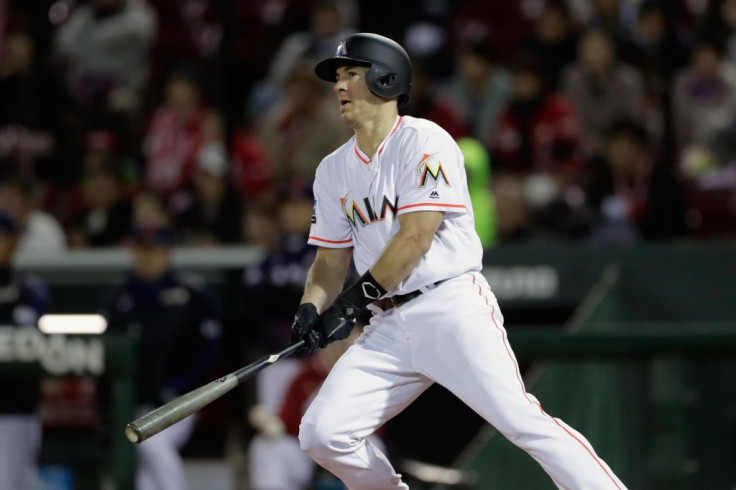 © Copyright IBTimes 2023. All rights reserved.