MLB Trade Rumors: Mets Discussing JT Realmuto 3-Team Trade With Yankees
The New York Mets have reportedly discussed a three-team deal with the New York Yankees for Miami Marlins catcher J.T. Realmuto.
MLB on Fox reporter Ken Rosenthal tweeted Monday about a potential three-team trade, though it was not known if Mets pitcher Noah Syndergaard would be involved and depart for the Yankees.
He also added the Mets would not part with Syndergaard, who has three years of team control left, if they were only getting Realmuto, who has two years of team control left, in return. The Mets are discussing two-team trade scenarios as well.
Mike Puma of the New York Post though, later confirmed discussions over a three-way trade which would see Realmuto go to the Mets while Syndergaard would go to the Yankees.
This was followed up by SNY.tv's Andy Martino reporting that Syndergaard to the Yankees was a real possibility, though he added there are "10 other scenarios" that the Mets were considering.
Nothing is official yet, but if a deal were to happen, it would be the first significant trade between the two New York rivals since they traded Felix Heredia and Mike Stanton in December 2004.
Realmuto has been the subject of trade speculation ever his agent Jeff Berry revealed in October that the 27-year-old had informed Marlins ownership that he would not sign an extension once his contract expires in two years.
"[Realmuto] has informed the Marlins ownership, informed their front office that he's not going to sign an extension in Miami," Berry said at the time. "From that standpoint, you can keep him for two years or not. It makes sense when you have one of the more valuable trade assets in baseball to move him, period."
It's not just the Mets interested either as according to Jon Heyman, there are no fewer than 14 teams interested in trading for Realmuto.
Marlins manager Don Mattingly, though, still sees Realmuto as a part of the team's future.
"I look at him as part of our club," Mattingly said on the first day of the Winter Meetings on Monday. "I think everyone's been pretty up front with how we feel about J.T. publicly, privately, personally with him. He knows how much we like him and what we think about him. He's handling everything fine. J.T.'s a tough kid. He's a big-time leader."
"It's why we love him. It's why a lot of teams love him. They hear the news or the narrative about him. And it's all true. This is a tough kid that's not really bothered by anything. He just comes to play. And so I think he's doing fine with everything," he said.
Realmuto finished the 2018 season with a 277/.340/.484 line, 21 home runs, a 126 wRC+ and was named an All-Star for the first time in his career.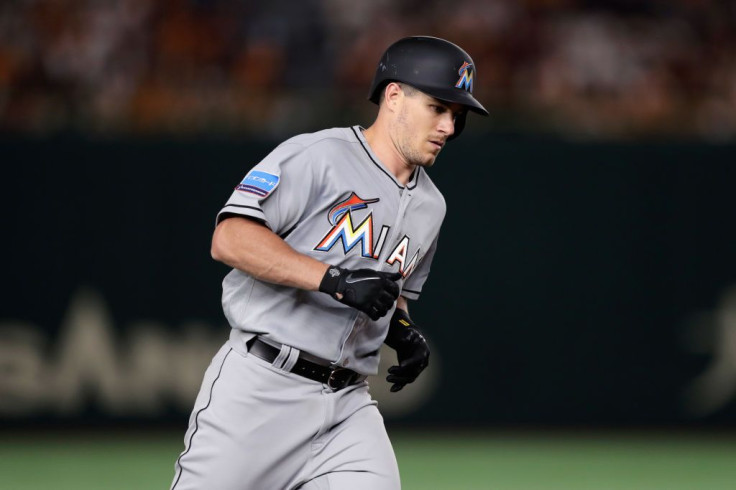 © Copyright IBTimes 2023. All rights reserved.