MLB Trade Rumors: Yankees, Dodgers Want Pitching, Robbie Ray, Shane Greene Among Top Targets
Time is running out for the New York Yankees and Los Angeles Dodgers to make a move. The 2019 MLB trade deadline will be here at 4 p.m. EDT Wednesday, and both teams are still working toward acquiring at least one impactful player.
The Yankees want a starting pitcher and possibly a relief pitcher. The Dodgers are focused on improving their bullpen.
Will either World Series contender make a big splash?
The options for New York are quickly coming off the board. Marcus Stroman and Trevor Bauer, previously among the most likely candidates to land in the Bronx, have both been traded to non-contenders. That might leave Robbie Ray as the most realistic target for the Yankees.
Ray will actually be at Yankee Stadium during the trade deadline since New York hosts the Arizona Diamondbacks in an afternoon game.
The San Francisco Giants are discussing deals for Madison Bumgarner, though the likelihood is he's probably staying put. Both Bumgarner and Texas Rangers' starter Mike Minor have the Yankees on their no-trade lists.
The Yankees are reportedly interested in the two available New York Mets' starters. Zack Wheeler has struggled this season and might not be a notable upgrade for the Yankees. Few believe the Mets would actually trade Noah Syndergaard to the Yankees, even if they can offer a strong trade package.
The Dodgers have been linked to Syndergaard, but Los Angeles doesn't need a starter. They've got the best rotation in the National League. Kenley Jansen's struggles have forced the team to scan the market for relief help.
Los Angeles has been linked to Mets' closer Edwin Diaz. Diaz has a 5.05 ERA after blowing another save Tuesday night.
Closer Felipe Vazquez is arguably the best reliever available. A source told The Athletic's Ken Rosenthal Wednesday that Vazquez might have a 50-50 chance of being dealt. The Pittsburgh Pirates' asking price, however, could prevent a trade from happening with Los Angeles.
Detroit Tigers' closer Shane Greene might be a more likely option for the Dodgers. The cost for him is cheaper since Greene is two and a half years older than Vazquez and only under team control through next season. Greene has a 1.18 ERA.
Greene is also an option for the Yankees. If New York can't land a frontline starter, they might choose to improve arguably the best bullpen in the American League.
The Dodgers and Yankees have been favored to meet in the Fall Classic for much of the season. What they do Wednesday could ultimately play a major role in whether that meeting takes place.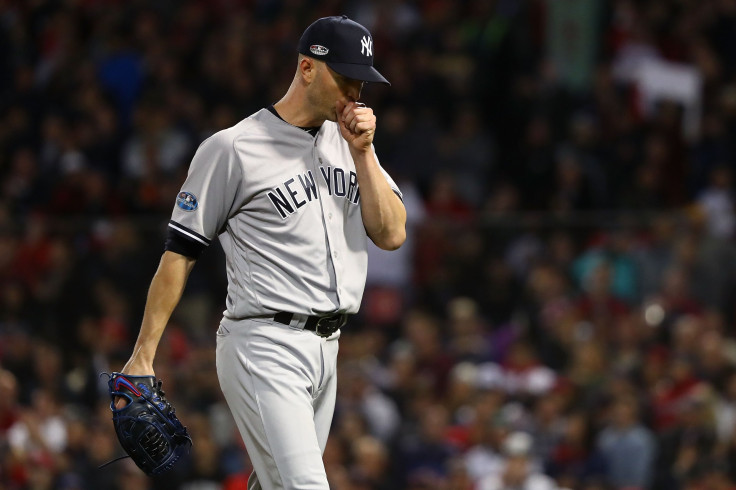 © Copyright IBTimes 2023. All rights reserved.