Monarch Butterfly Endangered: US Considers Protections For Famed North American Insect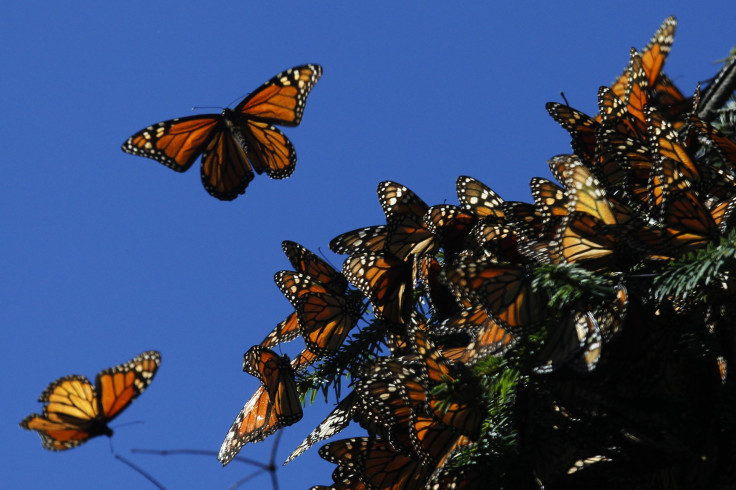 The monarch butterfly has caught the attention of the U.S. federal government, which will consider whether the insect should be protected under the Endangered Species Act. Doing so would mean the butterfly would receive special safeguards under U.S. law, including prohibiting it from being traded or sold. It would also protect key monarch habitats, something scientists have said is crucial to ensuring the butterfly's survival.
"The Endangered Species Act is the most powerful tool available to save America's monarchs, so I'm really happy these amazing butterflies are a step closer to the protection they so desperately need," Tierra Curry, a senior scientist at the Arizona-based nonprofit Center for Biological Diversity, told the St. Louis Post-Dispatch. The U.S. Fish and Wildlife Service has been tasked with conducting a "status review" of the butterfly to help determine what action, if any, should take place.
The number of monarch butterflies in North America dropped last year to its lowest since 1993, the year scientists began tracking its population. By some estimates, over the past two decades, the monarch butterfly population has plummeted 90 percent, according to the Telegraph-Forum.
The butterfly has faced several obstacles, both natural and manmade, that have threatened the species' viability, environmentalists have said. The most commonly cited factor that has led to the monarch's decline is deforestation and extreme weather in the area of western Mexico where the butterfly spends its winters. Scientists also point to a loss of milkweed, the insect's staple food source, due to weed-control measures by U.S. farmers as playing a role in the insect's declining numbers.
Every year, the monarch butterfly makes a 3,000-mile journey through North America to escape winter, spending the cold months in Southern California and Mexico. The black-and-orange insect makes only one round trip during its lifetime. The mass migration begins in the fall.
The Endangered Species Act, enacted in 1973, currently protects over 1,360 plant and animal species in the U.S. The goal of including a species under the act is to stabilize the species' population.
© Copyright IBTimes 2023. All rights reserved.