More Than 76 Million Children Live In Poverty In The Developed World: UNICEF Report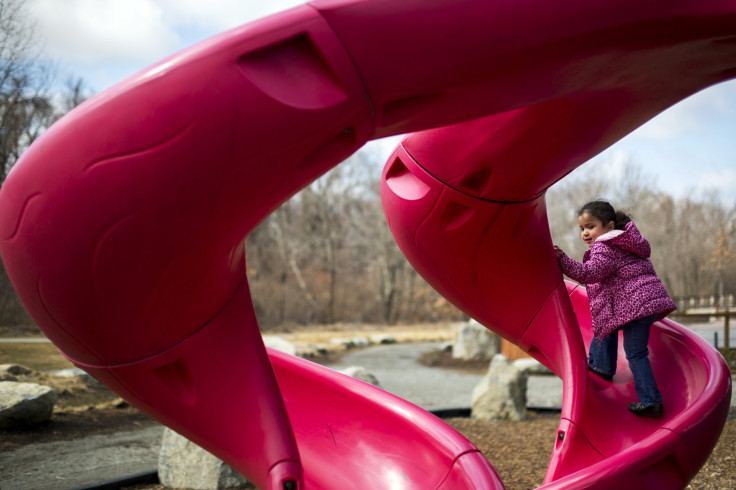 Since the start of the global recession in 2008, child poverty has increased in 23 countries in the developed world, bringing the total number of affected children to approximately 76.5 million, based on a new UNICEF report. In the United States, child poverty has increased in 34 states, with 24.2 million children living below the poverty line.
The "Children of the Recession: The impact of the Economic Crisis on Child Well-being in Rich Countries," or Innocenti Report Card 12, ranked the 34 member countries of the Organization for Economic Co-operation and Development, or OECD, and the European Union to determine if child poverty has increased or decreased since 2008. Of the 41 countries, 18 have reduced child poverty numbers with Chile leading the way. Chile's child poverty numbers decreased by 8.67 percent from 2008 to 2012, followed by Poland (7.90 percent); Australia (6.27 percent); Slovakia (5.6 percent) and Switzerland (4.8 percent).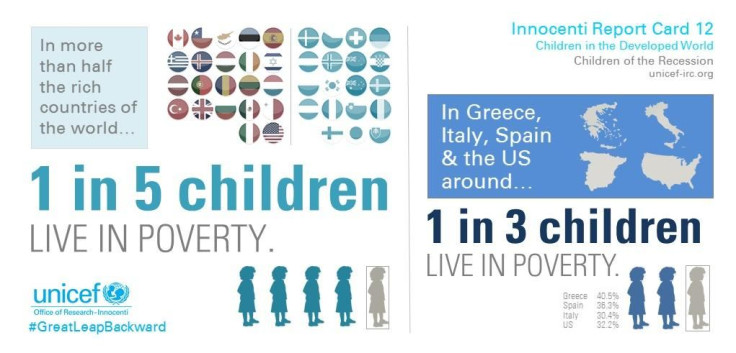 Of the 23 countries with increased child poverty, Iceland was the most impacted by the 2008 global recession with an increase of 20.40 percent. Greece (17.50 percent); Latvia (14.60 percent); Croatia (11.80 percent) and Ireland (10.60 percent) are also among the countries with the highest increases in child poverty. Other countries of note include the United States with 2.06 percent increase in child poverty; the United Kingdom (1.6 increase); France (3.00 percent increase); Spain (8.10 percent increase); Canada (2.44 percent decrease); Japan (2.70 percent decrease) and South Korea (3.50 percent decrease).
The Innocenti Report Card 12 also ranked the change in youths, between the ages of 15 and 24, not in education, employment or training, or NEET. Turkey had the biggest reduction in NEET with an 11.5 percent decrease followed by Germany (2.1 percent); Japan (1.5 percent); Luxembourg (1.2 percent) and Mexico (0.4 percent). Cyprus had the highest increase at 9.0 percent followed by Greece (8.9 percent); Croatia (8.5 percent); Romania (5.6 percent) and Italy (5.6). The U.S. was the 31st ranked country with a 3.0 percent increase.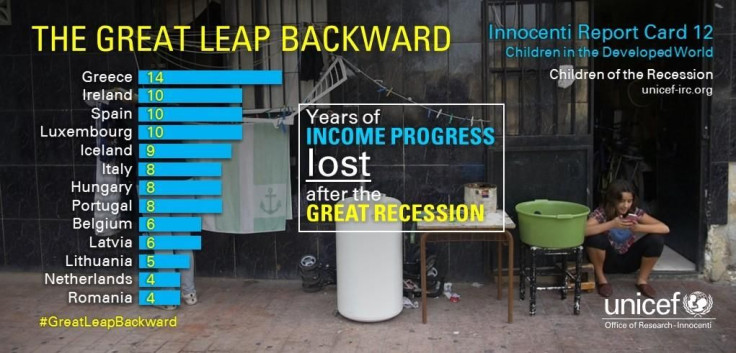 Greece had the highest number of children living in poverty at 40.5 percent, partly due to austerity measures that were part of a bailout, Reuters reported.
Jeffrey O'Malley, UNICEF's Head of Global Policy and Strategy, described the increase in child poverty in 41 countries as a "great leap backward."
"UNICEF research shows that the strength of social protection policies was a decisive factor in poverty prevention. All countries need strong social safety nets to protect children in bad times and in good -- and wealthy countries should lead by example, explicitly committing to eradicate child poverty, developing policies to offset economic downturns, and making child well-being a top priority," O'Malley said in a statement.
© Copyright IBTimes 2022. All rights reserved.
FOLLOW MORE IBT NEWS ON THE BELOW CHANNELS