Morris Claiborne: Five Reasons Why the LSU Cornerback Was a Good Pick for the Cowboys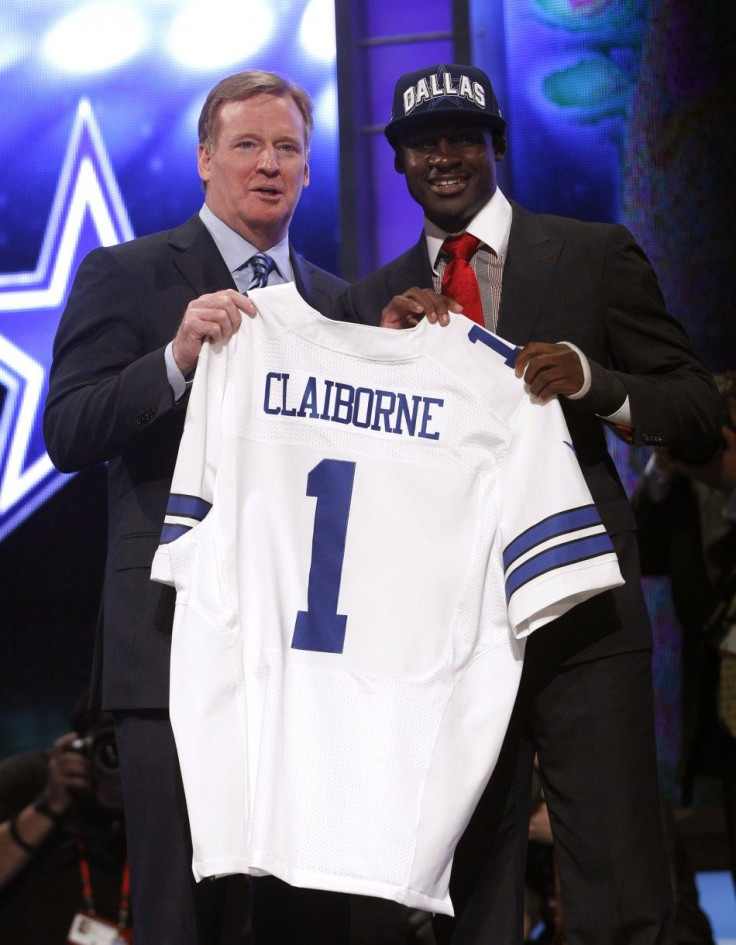 The Dallas Cowboys made the biggest splash of the first night of the 2012 NFL Draft when they gave away their second round pick in the 2012 draft to move up eight spots in the first round to draft LSU cornerback Morris Claiborne.
Claiborne was one of the highest rated defensive backs in the draft and a player that Dallas owner Jerry Jones was thrilled to be able to add to his team.
We had decided as late as three days ago that he'd be the only player we'd go up and get, Jerry Jones said. We use the word elite. I think he is. You couldn't say that about that many players in this draft. When you have the opportunity to get that elite player - one with the character and the makeup - you have to do it. He's the most consensus pick and the most consensus move that I ever remember on our draft day.
The move should be remembered for years to come by Dallas fans as Claiborne looks primed to have a long and productive career in the NFL. By the time his career is over, few will remember the pick the Cowboys lost to acquire him.
All Cowboys fans should start boning up on their newest addition so without further ado: the five things reasons the Morris Claiborne was a good pick for the Dallas Cowboys.
1. He's Smarter Than You'd Guess
Claiborne may have worried some teams or fans when news came out earlier this week that he scored a 4 on his Wonderlic test, a test used to measure intelligence in incoming NFL prospects.
They say it's an IQ test. I came to the combine for football. I looked at the test, and wasn't any questions about football. I didn't see no point in the test. I'm not in school anymore. I didn't complete it. I only finished 15 or 18 questions, Claiborne said after getting drafted.
It was a gamble to blow off that test, but it is one that paid off handsomely for Claiborne who will likely get eight figures as soon as he signs a deal with the Cowboys. Playing defensive back is all about risk vs. reward and it looks like Claiborne has that part of the game figured out
2. Lockdown Cornerback
Claiborne led the LSU defense in interceptions and was top 5 in tackles in both of his last two years on campus. He is the perfect size at 6', 188 pounds to be a solid cover corner. He is small enough to be agile while big enough to be able to defend larger receivers.
He won the Jim Thorpe Award given to the best college defensive back in the nation, joining players like Eric Berry, Patrick Peterson, Michael Huff, Terrance Newman, Roy Williams and a player Claiborne has drawn comparisons to, Deion Sanders.
He is almost an identical size, with nearly the same measurable as Sanders, who was taken fifth overall in 1989 by the Atlanta Falcons. Sanders is one of the best defensive backs in Dallas Cowboy history despite playing with them for just four years and if Claiborne is anything like Neon Deion the Cowboys just scored big.
3. The Return Game
Every NFL coach will tell you that football is a game of three phases, offense, defense, and special teams. It is that third, and sometimes overlooked third category where Claiborne figures to make a huge impact for Dallas.
Claiborne was the top kick returner for the Tigers last season, averaging 25.1 yards per return including a 99-yard return for a touchdown.
Dallas had a returner by committee system last year with players like Dez Bryant, Dwayne Harris, Felix Jones and Kevin Ogletree all getting a chance to return multiple kicks but none of them really electrified, and each is an injury risk. Claiborne will be a huge upgrade.
4. A Steal of a Pick
Obviously the NFL is a competition. But that competition goes way beyond the field, to free agency, the signing of coaches, ticket prices and even the draft. By moving up to the sixth pick to grab Claiborne, the Cowboys prevented him from falling to the Tampa Bay Buccaneers at No. 7, who selected Mark Barron, or the Buffalo Bills who took Stephon Gilmore at No. 10.
Though neither is a divisional opponent, the Cowboys play the Buccaneers three times and the Bills once by the 2015 season. Keeping Claiborne away from those potential opponents and allowing Tony Romo to avoid throwing at him, was a coup for Jones and the Cowboys.
5. Day One Starter
Claiborne is now the opening day starter opposite Brandon Carr at cornerback for the Cowboys. On a team that has had a porous secondary for many years, having a position as important as cornerback solidified months before camp begins is a huge advantage.
© Copyright IBTimes 2023. All rights reserved.