Most Expensive Mars Missions Of NASA Ranked - IBT Graphics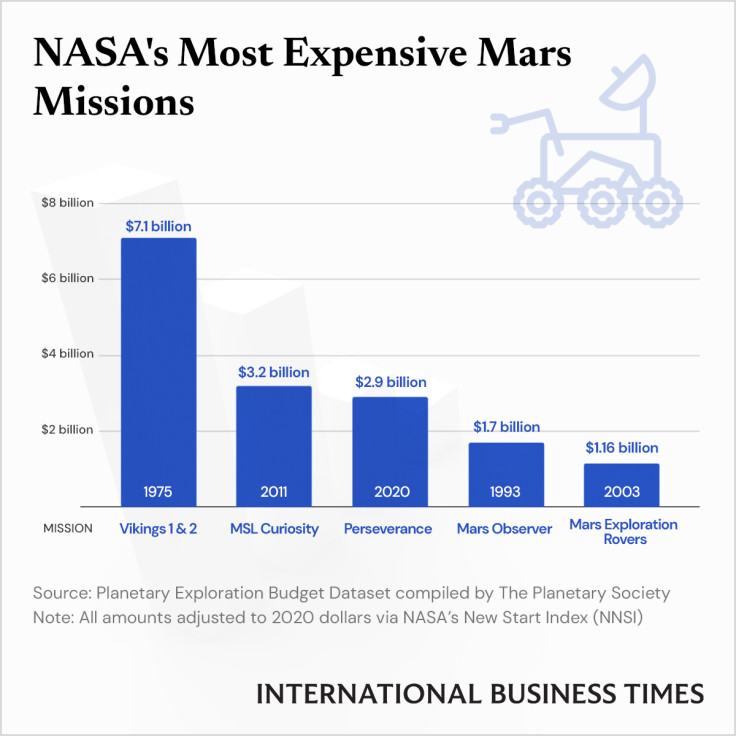 NASA has been making continuous, albeit, efforts to explore the Red Planet. The space exploration agency spent about $2.9 billion on its most recent Mars project named Perseverance Rover in 2020, according to research conducted by The Planetary Society. The project was aimed at searching for signs of ancient life as well as samples for future return to Earth on the Red Planet.
However, Perseverance was only the 3rd most expensive Mars mission conducted by NASA and the 7th most-expensive spacecraft in the history of the agency's planetary exploration programs.
The Viking 1 & 2, launched in 1974, were the most expensive Mars missions pursued by NASA at a life-cycle cost of $7.1 billion. It is followed by the Curiosity rover ($3.1 billion), the largest and most capable rover ever sent to Mars by NASA to explore environmental conditions on the Red Planet to support small life forms.
© Copyright IBTimes 2023. All rights reserved.