Mozilla Firefox 5.0 released - Bigger, better, faster, more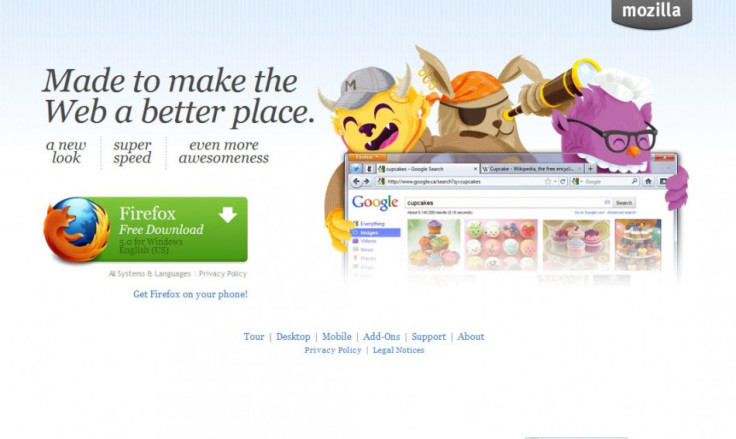 Mozilla Corporation has released the latest version of the world's most popular free and open source web browser Firefox 5.0, which not only addresses bugs but also promises more stability, faster browsing and overall better performance.
The release comes just three months after Mozilla released Firefox 4.0 and is in line with Mozilla's policy of releasing a new version of the browser every three months so that the users get to try new features and technology quicker.
Firefox 4.0 debuted nearly a year after of the release of Firefox 3.5.
The latest version of Firefox includes more than 1,000 improvements and performance enhancements that make it easier to discover and use all of the innovative features in Firefox, Mozilla wrote on its blog. This release adds support for more modern Web technologies that make it easier for developers to build amazing Firefox Add-ons, Web applications, and Web sites.
Firefox 5.0, which is available as a free download from www.mozilla.com can run on Windows 2000 or newer, Mac OS X 10.5 or newer and Linux.Users of Firefox 4.0 will get notification of the newer version automatically.
Firefox 5.0's UI is nearly identical to Firefox 4.0 but deep down inside Firefox 5.0 is vastly superior to Firefox 4.0 for severa reasons, the most important ones being:
[1] Do Not Track - Firefox 5.0 is the first browser to offer cross-platform support for Do Not Track functionality. It basically inserts special headers into page-loading requests that ask remote sites not to record any personal information about the visitor. However, it's up to the remote sites to actually honor that request.
[2] Bugs - Firefox 5.0 has fixed several stability and security issues, including one in the browser's handling of the WebGL 3-D rendering standard that rival Microsoft has called unsafe.
[3] Critical improvements - Firefox 5.0 has improved support for HTML5, XHR, MathML, SMIL and CSS animations. There are visible performance improvements, including HTTP optimizations and limiting polling frequency of background tabs so scripts there can't drag down the main tab as badly.
[4] Faster - Firefox 5.0 is faster than other browsers and uses very little RAM even with multiple tabs or windows open.
Other improvements in Firefox 5.0 include better spell checking in some languages; improved canvas, JavaScript, memory, and networking performance; better Linux desktop integration; and improved background tab performance.
© Copyright IBTimes 2023. All rights reserved.