Mueller Investigating Trump's Business Dealings In Russia Probe: Report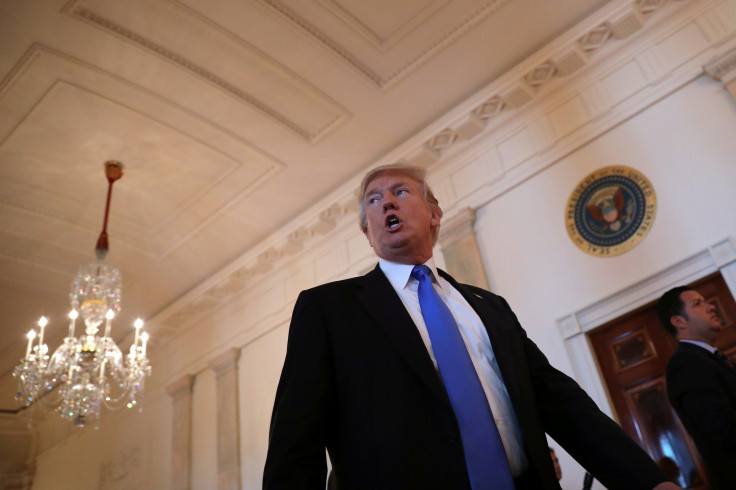 U.S. Special Counsel Robert Mueller is now investigating President Donald Trump's business dealings as part of the Justice Department's probe into connections between Russia and Trump's campaign, according to a Thursday Bloomberg report.
Justice Department instructions to Mueller included investigating "any links and/or coordination between the Russian government and individuals associated with the campaign," and to follow up on "any matters that arose or may arise directly from the investigation." Trump said that any investigation into his financial dealings outside of Russia by Mueller would cross a line in a Wednesday New York Times interview. He did not say, however, whether he would consider firing the special counsel or not.
READ: Special Counsel Robert Mueller's Trump-Russia Investigation Not To Affect House Intelligence Committee's Probe
Bloomberg reported that the FBI is investigating a Trump SoHo project with Russian partners, Russians buying apartments in Trump properties, the 2013 Miss Universe pageant in Moscow and Trump's sale of a Florida mansion to a Russian oligarch.
"Those transactions are in my view well beyond the mandate of the Special counsel; are unrelated to the election of 2016 or any alleged collusion between the Trump campaign and Russia and most importantly, are well beyond any Statute of Limitation imposed by the United States Code," one of Trump's lawyers John Dowd told Bloomberg.
Trump was dismissive of Russian financial ties to his real estate empire in the Times interview.
"I mean, it's possible there's a condo or something, so, you know, I sell a lot of condo units, and somebody from Russia buys a condo, who knows? I don't make money from Russia. In fact, I put out a letter saying that I don't make — from one of the most highly respected law firms, accounting firms," said Trump. " I don't have buildings in Russia. They said I own buildings in Russia. I don't. They said I made money from Russia … I don't."
Another person of interest in the financial investigations is Paul Manafort for possible money laundering. Manafort for a time served as the campaign manager for Donald Trump.
READ: Jared Kushner's Middle East Role Not Affected By Robert Mueller's Investigation Into His Business Deals
Mueller's investigation is one of several stemming from possible ties between Russia and the Trump campaign. Others include the House and Senate Intelligence Committees.
Trump has repeatedly taken shots at all investigations calling them a "witch hunt." In the interview with the Times, Trump also called Mueller being named special counsel a conflict of interest because he was being considered for the role of FBI Director. Trump fired the previous director, James Comey, over concerns about the FBI's investigation into connections between former national security advisor Michael Flynn and Russia.
© Copyright IBTimes 2023. All rights reserved.