Murder Capital Of The World: How El Salvador Is Fighting Gang Violence By Reforming Its Lawless Prisons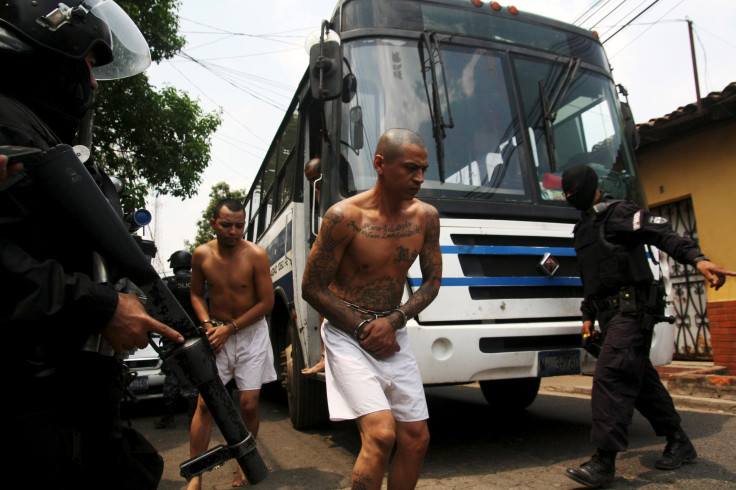 El Salvador cranked up its war on prison gangs Tuesday, declaring a state of emergency at seven prisons and transferring nearly 300 high-ranking gang members to an isolated facility outside the capital. National lawmakers were expected to debate Wednesday additional measures aimed at combating gang violence, the Associated Press reported.
Mauricio Ramírez Landaverde, the minister of justice and public security, said the gang leaders will be held on lockdown. Under the state of emergency, family visits were also suspended for 15 days.
"They are going to be subjected to a higher security regimen, with greater control to make sure communication from inside the prison system is stopped," Ramirez said. "They have been identified as those most involved in communicating with the outside, in directing and coordinating illegal activities of the criminal groups."
Police and soldiers have been tasked with overseeing the war on gangs after leftist President Salvador Sánchez Cerén pledged earlier this month to free the nation's prisons from the control of gang leaders. His administration rejected an offer over the weekend by the gangs for negotiations. In a video message, masked men allegedly representing El Salvador's three most powerful street gangs said their members would stop killing if the government stopped its campaign against gangs.
El Salvador Overview | FindTheData
Lawmakers were expected to consider Wednesday measures that would deploy more soldiers in national prisons, create states of emergency in conflict zones and penalize phone companies that allow gang leaders to communicate from prisons.
El Salvador's gang violence has seen the nation become the world's murder capital after a truce between its two most powerful street gangs, Mara Salvatrucha and the 18th Street gang, ended in 2014. At the same time, El Salvador's prisons have increasingly become a lawless zone for gang members, who murder their foes with impunity. In August, 14 members of the country's notorious Barrio 18 gang were killed in a prison in the north of El Salvador after an internal feud.
"The gangs are exerting pressure on the government to accede to their demands," César Ortega, who has led an anti-gang division in the national police force and is now a local government official in San Salvador, told the Washington Post in January. "That's what they're trying to do by increasing the incidence of homicides in certain parts of the country."
Nearly 7,000 people were murdered in the small Central American country last year, up 70 percent from 2014. The homicide rate of 104 people per 100,000 is the world's highest.
"Keep in mind, you're talking about the national average," Adriana Beltrán of the Washington Office on Latin America told USA Today about El Salvador's homicide rate in January. "If you start looking at where the pockets of violence are, it's shocking."
August marked the nation's most violent month, with more than 900 homicides, including 52 deaths reported in a single day.
© Copyright IBTimes 2023. All rights reserved.