Muslim Turkish President Erdoğan Calls For Fight Against Anti-Semitism, Anti-Islam Sentiment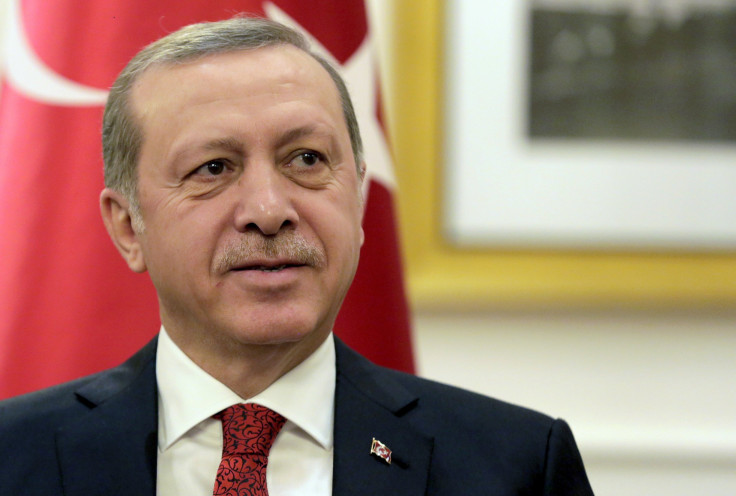 Turkish leader Recep Tayyip Erdoğan's time as president and prime minister has been marked by hostilities with Israel and accusations of anti-Semitism. But during a trip to Washington this week, Erdoğan signaled he hopes to change that. Meeting with American Jewish leaders Wednesday in a closed-door gathering, Erdoğan called for a united battle against both anti-Jewish and anti-Muslim sentiment.
Erdoğan said it is unfortunate "anti-Semitic, Islamophobic and xenophobic movements have moved from the periphery to the center of politics," Hurriyet Daily News reported Thursday. "We need to cooperate against these movements," he said.
The meeting was an apparent effort to strengthen relations between the Turkish government and Jewish communities as Turkey pushes for reconciliation with Israel. Relations turned sour in 2010 following a deadly assault on a Turkish flotilla carrying humanitarian aid to the Gaza strip, killing nine pro-Palestinian activists. The Turkish leader has routinely lashed out against Israeli officials for their policies toward the Palestinians. At the same time, trade relations between the countries have stayed strong despite the diplomatic fallout.
Leaders in his government have regularly made statements that appeared to back anti-Jewish conspiracies. In 2013, for example, Erdoğan blamed mass public protests on an "interest rate lobby," which his deputy defined bluntly as "the Jewish diaspora." The comment landed second on the Simon Wiesenthal Center's "2013 Top 10 Anti-Semitic/Anti-Israel Slurs" list, below only the Iranian supreme leader.
Erdoğan has, however, seen to the restoration of several historic Jewish sites and reportedly has maintained good relations with Jewish and Christian minority communities in Turkey. The country is home to the largest Jewish community in the Middle East after Israel, with some 20,000 people.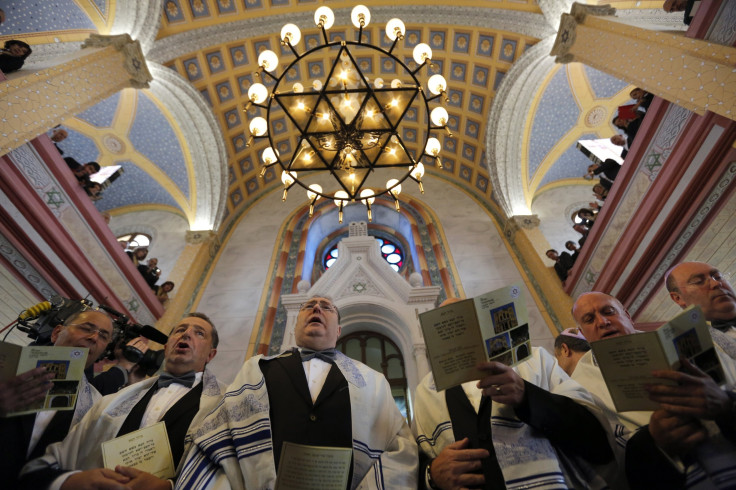 During the meeting Wednesday, Jewish leaders reportedly offered their condolences for recent attacks in Istanbul and Ankara, and thanked him for caring for Israeli tourists killed and wounded during violence in a popular Istanbul shopping district earlier this month. Three Israeli tourists were among those dead in a suicide bombing the Turkish government blamed on the Islamic State group.
Despite his efforts to mend ties with Jewish communities, Erdoğan has come under growing criticism for his authoritarian style of rule. He has overseen a massive crackdown on opponents in recent months and his government has been accused of various human rights abuses. Erdoğan was in the U.S. this week for a nuclear summit with world leaders.
Malcolm Hoenlein, the executive vice president of the Conference of Presidents of Major American Jewish Organizations, was in attendance. He reportedly praised the leader's efforts to mend broken ties between Turkey and Israel.
"It was very positive. The president [Erdoğan] was very open to discussing issues we raised," Hoenlein told the Turkish state-run Anadolu Agency. "We expressed our appreciation for the support the president himself and the [Turkish] government gave to the Israeli victims in the last attack."
© Copyright IBTimes 2023. All rights reserved.