Myanmar Imposes Export Ban To Stop Its Timber From Foreign Exploitation, Goal Is To Establish Domestic Wood-Processing Industry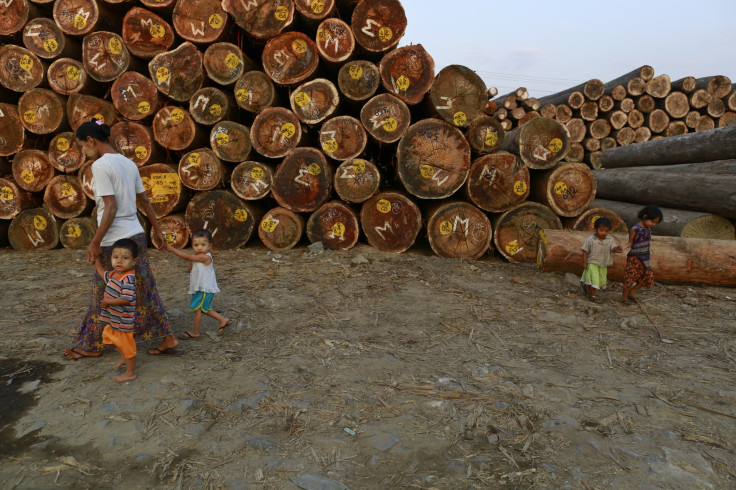 Myanmar is a classic case of a country rich in natural resources but poor in income. Timber, along with oil and gems, sit at the center of this all-too-common syndrome: Some of the highest-quality wood is sold at ultra-low prices that benefit importing nations like China and Thailand, not Myanmar.
But on Tuesday Myanmar's government is putting an end to its timber exports in the first step of a project to establish a domestic wood-processing industry that will dramatically boost revenue from sales of finished wood products, hike tax receipts and benefit Burmese people.
The impoverished Southeast Asian country is one of the last in the world to still allow unprocessed logs to be exported, depriving itself of a chance to build up a wood-processing industry that can add value to its vast natural resources, the Irrawaddy, a Burmese news outlet, reported. But starting Tuesday, the government will ban the export of raw timber, and only sawn wood will be allowed to be exported.
The ban may not solve the problem for Myanmar, however. A report from the Environmental Investigation Agency (EIA) on Saturday said that nearly 75 percent of the country's timber trade is illegal, accounting for an estimated $6 billion, according to the Myanmar Times.
On the other hand, official export figures from the Ministry of Environmental Conservation and Forestry for 2000 to 2013 only account for 28 percent of all recorded international trade in Burmese logs, suggesting the rest may be illicitly traded, the EIA said.
"By proposing a log export ban, the government of Myanmar is acknowledging that vast amounts of the country's forests' raw materials in the form of logs have been looted and sold at less value than they are worth," said Faith Doherty, the EIA forest campaign leader, in a statement accompanying the report. "The log export ban in itself is just not enough. More needs to be done."
"The clear concerns is that, regardless of wider political reforms, opaque and unaccountable forest resource allocations mean Myanmar still continues to hemorrhage valuable natural resources for the benefit of a small elite," the EIA report said.
Timber is not the only rich resource to be illegally exported. Myanmar is the world's primary source of high-quality jade, yet in fiscal 2012, nearly half of the country's production of jade trickled "unofficially" over the border to China. Whereas the official export figure of jade for the time period stood at $34 million, the Harvard Ash Center estimates sales of Burmese jade should amount to about $8 billion.
Similarly, the China-Myanmar Shwe natural gas pipeline is sending enough natural gas to ease China's hunger for energy, but the Burmese are getting little aside from confiscated land, environmental damage and regional conflicts. Prospects of using Myanmar's abundant natural gas to feed a petrochemical industry still appear remote.
Fortunately, the first signs of change are already visible. Last year, foreign investment in Myanmar's timber industry reached $1 million, about half of which came from India, which was a major importer of Burmese raw timber previously.
"We usually exported wood to India as logs before, but not anymore," said Win Htun, the head of the Ministry of Environmental Conservation and Forestry, in reference to the export ban, according to the Irrawaddy. "So, businessmen there have no other choice but to come and do business inside our country."
© Copyright IBTimes 2023. All rights reserved.