Myanmar President Thein Sein Makes First Visit Of Burmese Official To US Since 1966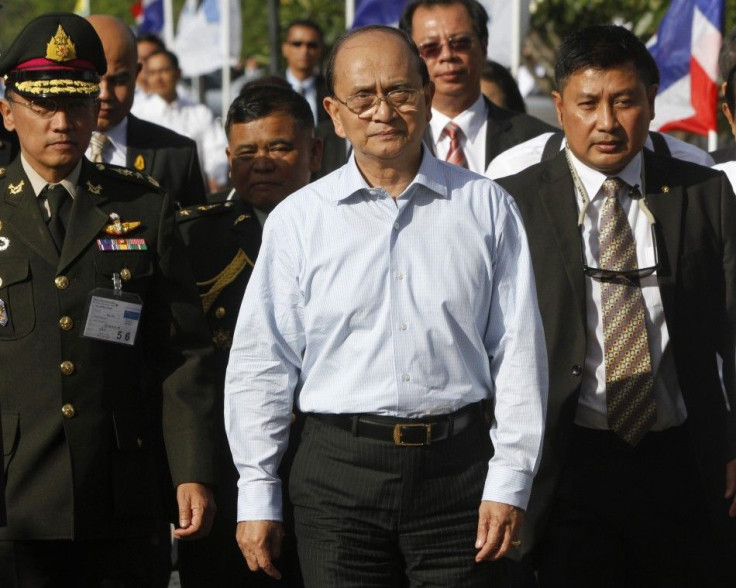 In the wake of his country being shaken by ethnic and sectarian violence, Burmese/Myanmarese President Thein Sein will arrive at the White House on Monday for a meeting with U.S. President Barack Obama. This will be the first official visit of a Burmese ruler since 1966.
The White House's official statement about the trip said Obama "looks forward to discussing with President Thein Sein the many remaining challenges to efforts to develop democracy, address communal and ethnic tensions, and bring economic opportunity to the people of his country."
Obama has been pushing Thein Sein to embrace more reforms in Myanmar's move toward democracy. Thein Sein has already freed hundreds of political prisoners, including Nobel Peace Prize and opposition leader Aung San Suu Kyi, and eased censorship laws. Thein Sein has even credited Obama with improving relations between the U.S. and Myanmar, but said at a forum in the U.S. on Sunday that Myanmar does need more economic development, AFP reported.
A Myanmarese official told the Bangkok Post on Friday that Thein Sein's visit is an endorsement by the U.S. of the "Myanmar Spring," and said "This spring represents the values that the US has been promoting around the world."
U.S. companies have responded to Myanmar's "thaw," the Washington Post reported on Friday. Google and Ford have already made overtures. But the human rights group U.S. Campaign for Burma is taking issue with Thein Sein's visit due to the ongoing violence by the majority Buddhist population against the minority Muslim Rohingya population.
"President Obama is sending the message that crimes against humanity by state forces against ethnic and religious minorities in Burma will be ignored by his administration," Jennifer Quigley, the group's executive director, told the AFP. 192 people died in the violence last year, and more than 140,000 were displaced, Reuters said. Ethnic Rohingya and Rakhine Muslims are denied citizenship in Myanmar.
Obama visited Rangoon in November 2012 and met with Aung San Suu Kyi. Suu Kyi last visited D.C. in September 2012 and received the Congressional Gold Medal from the U.S. Congress, the highest honor that Congress can bestow.
© Copyright IBTimes 2023. All rights reserved.