Myanmar's Economy To Receive Boost From Japanese And Korean Investment
Japan and Korea are investing billions of dollars in Myanmar in the hopes of building up the country's infrastructure to better serve foreign businesses that will undoubtedly follow in the footsteps of Coke and Unilever. With such avid foreign sponsorship, Myanmar is poised to welcome an economic boom in the coming years -- by McKinsey & Co.'s estimation, the small country could potentially bring its economy from $45 billion up to more than $300 billion in 2030.
The Myanmar government has made an effort in recent years to shift toward a more democratic rule. With the move, its foreign relationships, which were all but obliterated after the 1962 military coup, are now quickly on the mend. Last year, the United States lifted the majority of its economic sanctions on Myanmar, and the European Union followed suit in April of this year.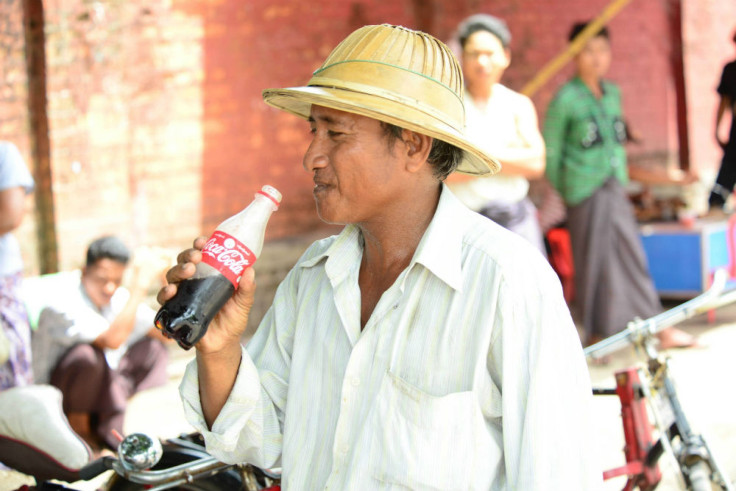 Western companies are eager to get back into Myanmar following the lift.
Coca-cola Co. (NYSE:KO) and Unilever LON:ULVR) plan to invest a total of nearly $1 billion in Myanmar over the next decade, the Wall Street Journal reports. PepsiCo (NYSE:PEP), Coke's biggest rival, has also signed a distribution pact with a company in Myanmar. Many more businesses are sure to follow.
However, infrastructure remains poor, and the labor force's skills are still limited, according to the Wall Street Journal.
But Japan and Korea may have great plans to help Myanmar become a more investor-friendly environment in the near future.
Earlier this week, Shinzo Abe, the Japanese prime minister, made a visit to Myanmar. During the visit, Abe not only agreed to cancel the $1.74 billion debt Myanmar owes Japan but also pledged to lend Myanmar more than half a billion dollars devoted to developing infrastructure and power projects in the country, the Chiangrai Times, a Thai news portal, reports.
Japan had previously written off more than $3.5 billion owed by Myanmar.
The loan itself represents ample opportunities for Japanese businesses. "Many Japanese firms, particularly in the areas of infrastructure and so on, are only too glad to win contracts to do development work in Burma," Sean Turnell, economics professor at Macquarie University in Sydney, Australia, said.
The loan will be used partly toward electricity development at the Thilawa Special Economic Zone at a port near Rangoon, Myanmar's largest city. The economic zone will be Japan's largest investment project in Myanmar.
Japan is interested in Myanmar for good reasons. According to a survey by the Japan External Trade Organization, Myanmar has the lowest average annual industry wage in Asia at $1,100. By contrast, the average wage in Thailand, where Japan has invested heavily, is $6,704, more than six times that of Myanmar and still on the rise.
Myanmar also has the lowest wages for engineers, managers and administrative staff in Asia, the Chiangrai Times reports.
Similarly, South Korea has also indicated its interest in helping Myanmar develop its infrastructure. The South Korean government will build a friendship bridge across the Yangon River, to link the city of Yangon with the township of Dala. Currently, nearly 50,000 workers from Dala cross the Yangon River by ferry every day to work in the city of Yangon due to the lack of a bridge.
In return, an industrial zone will be established in Dala, where there will be plenty of land and a workforce to enable South Korean companies to invest, Myanmar News reports.
South Korea has also agreed to provide $500 million in loans to Myanmar between 2013 and 2017. The two countries have discussed eight areas of cooperation covering 39 projects, including those related to infrastructure development and services, according to Myanmar News.
© Copyright IBTimes 2022. All rights reserved.
FOLLOW MORE IBT NEWS ON THE BELOW CHANNELS