MYbank Vs. WeBank: China's Internet Giants Go Head To Head In New Online Banking Sector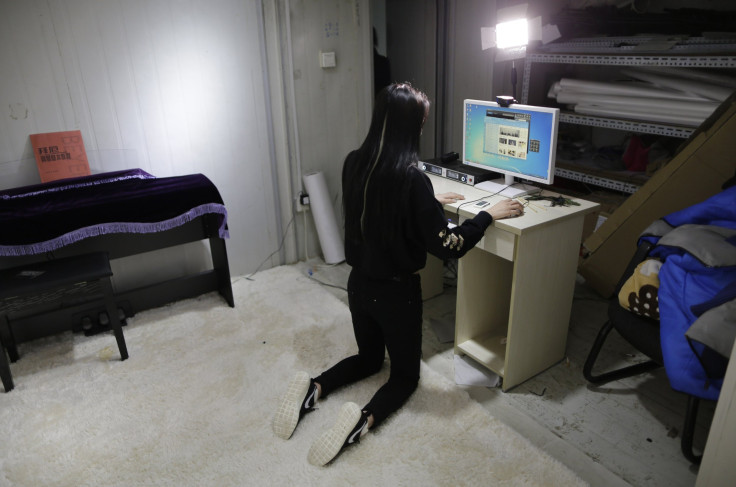 SHANGHAI -- China has approved the opening of the country's second online bank, backed by an affiliate of e-commerce giant Alibaba, in what analysts say is an important step forward in the country's banking reform. MYbank, with registered capital of 4 billion yuan (around $650 million), will be registered in Alibaba's home province, Zhejiang, west of Shanghai, state media reported.
The new bank, expected to launch in June, will not have physical branches, but will provide online services to individual customers and small businesses -- taking deposits of up to 200,000 yuan (around $32,000) and offering loans of up to 5 million yuan (just over $800,000). Ant Financial Services, owned by Alibaba founder Jack Ma and several of his colleagues, is the largest shareholder, with a 30 percent stake, while a subsidiary of Shanghai-based steel, leisure and insurance conglomerate Fosun Group holds 25 percent.
The approval of MYbank concludes the registration of a batch of five new private banks, which were given preliminary approval last year -- in what observers say could be the start of significant changes in China's banking industry. China previously had only one private bank, the Hong Kong- and Shanghai-listed Minsheng Banking Corporation, founded in the mid-1990s. The market has remained dominated by state-owned banks, which are generally seen as being cautious in their lending (particularly to private companies), less than generous with their interest rates, and not always focused on providing a customer-friendly service. Even today in Shanghai, China's financial capital, many citizens are used to having to queue for up to an hour, sometimes more, to carry out a simple transaction in their local bank branch.
The registration of MYbank also renews Alibaba's rivalry with Tencent, operator of China's biggest social media platform WeChat, and now China's biggest tech company. (Tencent was recently valued at over $76 billion, compared to Alibaba's $66 billion.) Both companies have already invested in rival online payment platforms (though they recently merged their online ride-booking apps, Didi and Kuaidi). Tencent has a 30 percent stake in China's first Internet bank, WeBank, which began operating in January and offered its first loans this month.
And while China's traditional banks also now offer online services and electronic transfers, analysts say that despite their relatively small initial capitalization, the new private banks, and the online debutants in particular, could become important 'disruptors' -- one of Jack Ma's stated aims -- and could herald a significant shake-up in the industry.
"I think this will have a significant effect – the [traditional] banks will be under enormous pressure from these institutions, even though they'll be relatively small to begin with," Nicholas Lardy, a longstanding expert on China's financial sector at the Peterson Institute for International Economics, told International Business Times at a meeting with journalists in Shanghai.
In particular, Lardy suggested, banks affiliated to the big Internet companies "have got so much better data on potential clients than the traditional banks have, they're going to be able to earn more money charging lower interest rates than the banks. They can pick out the best credit risks, in an economy where information on credit-worthiness is, shall we say, a bit thin."
The new players' ability to process big data and reach out to new, and often younger, customers -- including via social media platforms -- has already been highlighted by the success of online financial products, such as high-yielding investment funds, which they have launched over the past two years. Ant Financial said recently that its Yu'ebao online investment fund now has 185 million individual investors, and is now the nation's biggest money-market fund, after tripling in size last year to around $92 billion. (Reuters reported recently that Ant Financial itself had given 400 billion yuan ($64.5 billion) in micro-loans to more than 1.6 million small companies, with a bad-debt ratio of around 1 percent.)
And while there are clearly potential risks -- a number of China's online peer-to-peer credit platforms have closed over the past year -- China recently introduced a national deposit insurance plan that will guarantee all bank deposits of up to half a million yuan (around $80,000).
The government's decision to allow a partial opening of the banking sector appears to be designed in part to help finance the new innovative start-ups and small businesses, which it says are required to give a new impetus to China's economy. Speaking at the launch of WeBank earlier this year, Premier Li Keqiang said the debut of such institutions was a "giant step for financial reform," Xinhua news agency reported.
And some observers say such changes are further evidence that the Chinese government, under the pressure of a slowing export economy, is currently moving ahead with market-oriented reforms in several key sectors at its fastest pace for many years.
Earlier this week the government announced that it was seeking private investment for a range of infrastructure projects, on a public-private partnership basis, estimated to be worth over $300 billion dollars. From next month the government is also cutting import duties on a wide range of consumer goods, in an attempt to stimulate domestic demand -- and will also for the first time open up its bank-card clearing business, dominated by the state-run Union Pay monopoly, to domestic and foreign competitors.
© Copyright IBTimes 2023. All rights reserved.
FOLLOW MORE IBT NEWS ON THE BELOW CHANNELS