Mysterious Killing Of 'Witty, Generous' Hong Kong-Based British Academic In Southern China Fuels Anxiety In The City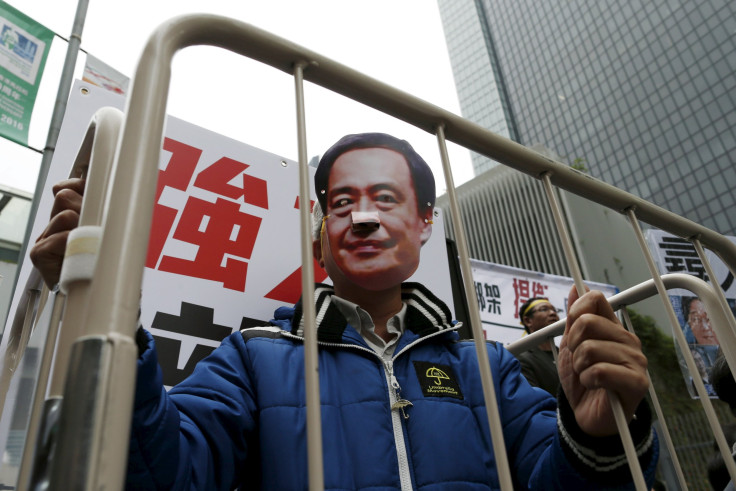 SHANGHAI — A British academic who taught at a university in Hong Kong has been found dead, possibly murdered, in southern China, according to Hong Kong police. The case — and an apparent delay in the release of information about it by Chinese police — has added to anxiety in the city about the rule of law in the region, following the recent disappearances of several Hong Kong booksellers who had sold books critical of China's leaders, with fears that at least one of them had been abducted and smuggled across the border into southern China.
Hilary St John Bower, 60, who taught English at the Hong Kong Polytechnic University since 1996, was reported missing in late March, prompting much concern among his colleagues and in Hong Kong's media. But it was only on Tuesday that Hong Kong police told local media they had been informed by Chinese officials that Bower had in fact been "killed"on March 22, soon after he crossed the land border from Hong Kong to Shenzhen, the southern Chinese city where he normally lived with his girlfriend and six-year-old son. Hong Kong's South China Morning Post (SCMP) said Bower had been murdered, while Agence France Presse quoted Hong Kong police as saying the case was "possibly a murder," but this had not been confirmed by Chinese officials.
No further details were released. Britain's Foreign and Commonwealth Office said simply that it was "urgently seeking further information from local authorities" about the case, and providing assistance to Bower's family.
A friend and colleague of Bower's, Richard Charles, had earlier told SCMP that he suspected his friend's disappearance could have been connected to the sale of a property he had owned in Shenzhen. Charles reportedly said that Bower had recently sold the property for around HK$9 million ($1.16 million), after buying it "at the bottom of the property market a good few years ago" — but he added that the deal had been "complicated." House prices in Shenzhen have soared more than 50 percent in the past year.
After the announcement of Bower's death, Charles criticized the handling of the case by both Hong Kong and mainland Chinese police, saying it had been "shoddy and shambolic," with little information released to Bower's friends or colleagues, SCMP reported,
Interpol was eventually said to have stepped in to seek more information from mainland Chinese police, after Bower's younger brother contacted U.K. police for help.
There has already been significant concern in Hong Kong at an apparent lack of communication between the city's police and their counterparts in mainland China. Hong Kong reverted to Chinese sovereignty in 1997, but it remains a separate customs territory, with its own legal system, which China pledged would not change for 50 years. But following the disappearance over recent months of four Hong Kong booksellers, who had published and sold books critical of China's leaders, critics say the city's police appear to have been largely kept in the dark by the mainland Chinese authorities.
Three of the men were later reported to have been detained while visiting Shenzhen. Another, bookstore boss Lee Bo, who held British citizenship, later said he had gone voluntarily to Shenzhen to assist the authorities with an investigation. Lee and two of the others returned briefly to Hong Kong last month, and asked the city's government to drop its missing persons investigations into their cases – before swiftly returning to the mainland, saying they needed to help the authorities there with their enquiries.
However, Lee's inability to account for how he had crossed the border to Shenzhen without passing through Hong Kong's immigration controls only added to public speculation that he had been effectively abducted from the city by Chinese officials, and that the men were being held under duress. Hong Kong police have said that without Lee's cooperation, they cannot explain how he crossed the border, and therefore cannot bring charges against him.
The case has "seriously rattled" international business confidence in Hong Kong, David Dodwell, executive director of the Hong Kong-APEC Trade Policy Group, wrote in the SCMP recently, while Hong Kong solicitor and pro-democracy political figure John Chan said this week that "only the truth about what happened to bookseller Lee Po will calm the jitters in Hong Kong."
One Hong Kong academic, who asked not to be named, told International Business Times that the disappearance of Hilary Bower, and the apparent delay in reporting information about his fate, had only added to public concern in the city, which in 2014 saw large-scale protests opposing an electoral system proposed by China, and calling for greater democracy.
Hilary Bower's brother was reported to be travelling to Hong Kong to seek more information about his brother's death, SCMP said Wednesday.
A former colleague at the Hong Kong Polytechnic University, Brian Holton, told IBT that Bower was "a lovely man, [with] an independent, original mind, witty, generous and very funny."
Murders of foreigners are relatively rare in China, though a British businessman, Neil Heywood, was reported to have been murdered in 2011 by Gu Kailai, his business partner and the wife of Bo Xilai, a member of the Chinese Communist Party's ruling politburo – though the case did not come to light until some months after Heywood's death. Gu was later given a suspended death sentence, eventually commuted to life in prison, while Bo was jailed for life for corruption.
© Copyright IBTimes 2023. All rights reserved.