Mysterious Sea Creature With Sharp Teeth, Scaly Skin, Baffles Fisherman
A fisherman was baffled to see a mysterious sea creature hooked on to his fishing line at Australia's Top End. The man was at Shady Camp, in the northern territory when he came across the purple creepy-looking fish.
"Has anyone caught one of these before?" a caption to two pictures on the Outback Boat Hire Facebook page read. The photos showed the grotesque purple-finned sea creature, covered in what looked like scaly skin.
It didn't seem that this creature was the only one of its kind in the area. Another man commented on the post saying his friend had caught a similar looking creature a few days ago at the same place.
"I spun out when I saw those pics it is the weirdest looking creature! " one woman commented.
Several social media users commented on the post, saying it could be a fish, with some saying its body resembled an eel or a snake.
Fish identification expert Morgan Grant said the creature was "one of the least-well-known groups of fish in Australia." According to Grant, it was a genus of "gobies" belonged to either the Eel gobies or Worm gobies fish species group, Yahoo News 7 reported. He also suggested the creature could also belong to the genus Taenioides, and possibly the Purple Eel Goby, due to its color pattern and body shape.
"These fish are found in fresh and brackish estuaries, and coastal marine waters in the western Pacific and Indian Oceans, and there are a number of species present in Australia," Grant said.
"They have poorly-developed eyes, often covered by skin, because they live in turbid water and rely on touch rather than sight to catch their prey," Grant wrote on the Facebook post. "That's why they also have such ferocious teeth, because when they find lunch, they don't want to let it go!"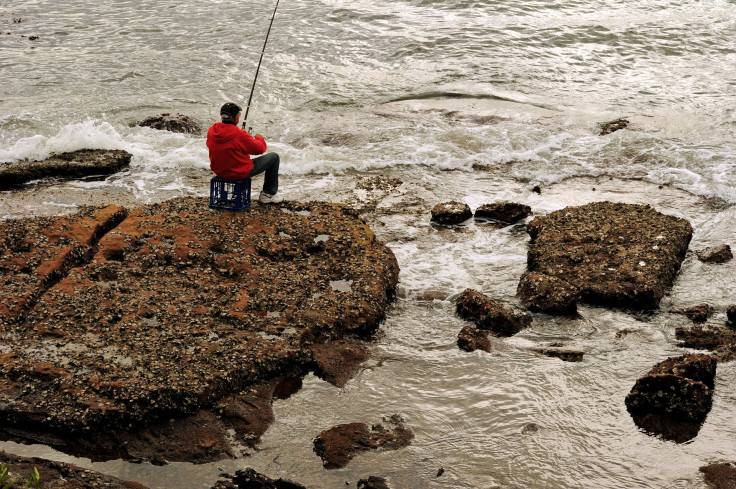 This is not the first time an alien-like creature's photo or video shared on the internet has baffled social media users.
Most recently, a diver in New Zealand was baffled after he came face to face with a bizarre-looking underwater "sea serpent" measuring nearly 30-foot-long recently. Ben Laurie, 21, said he encountered the creature while diving near Cape Brett on North Island. Laurie caught the condom-shaped creature floating underwater surrounded by much smaller marine animals.
In January, experts were surprised to see photos of a mysterious "blob-like alien" sea creature that washed up on the shores of Durras Beach in Australia's New South Wales. The creature, with a yellow hue and three segments, drew comparisons to several things including a jellyfish, part of a jellyfish and part of a sea animal.
In another incident in January, a traveler found a mysterious "sausage-like" creature at Victoria's Lake Bolac, Australia, and posted a video of it on social media. Dr. Tanya Latty, an entomologist at the University of Sydney, said the animal was a rat-tailed maggot and the creature did not pose a threat to humans.
© Copyright IBTimes 2023. All rights reserved.