Nadal Wins, But Felled by Cramps at U.S. Open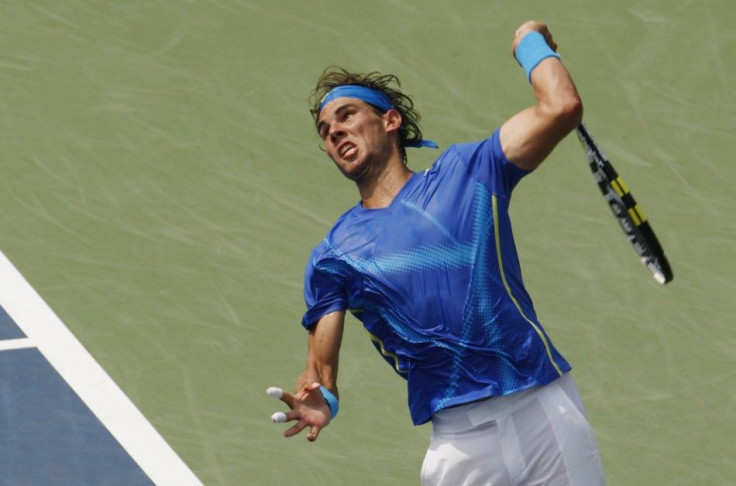 Rafael Nadal sent a scare through the U.S. Open Sunday when he collapsed during his post-match news conference because of severe cramping in his leg in a dramatic ending to the first week at the last grand slam of the year.
The defending champion was speaking to reporters after his third round win over David Nalbandian when he suddenly stopped talking, then covered his face with his hands and slumped to the floor.
Journalists were ordered to leave the room and the lights were turned down as medical staff were called to treat the Spaniard, who slid from his chair on to the floor.
He was obscured by a desk but closed circuit television showed a trainer massaging his right leg while another man gave Nadal ice and fluids. Nadal remained on the carpet for about 10 minutes before he was eventually helped to his feet.
He returned to the conference room shortly after to explain what happened, smiling and playing down the incident.
I just have cramping in my leg. That's all, he said.
I just have cramping in front and behind. That's why. It was so painful. That's all.
Nadal had just beaten Nalbandian 7-6 6-1 7-5 on a baking hot day at Flushing Meadows to book his place in the fourth round and was not the only player struggling with the heat.
Italy's Flavia Pennetta was so overcome by the humidity that she began dry retching when she was serving for the match in the second set against China's Peng Shuai.
Pennetta, who had upset Maria Sharapova in the third round, suddenly started to unravel.
She failed to hold her serve then fell behind 6-2 in the tiebreaker.
But the 29-year-old Italian regained her composure in the nick of time, reeling off the next six points in a row to win 6-4 7-6 and advance to a quarter-final meeting with unseeded German Angelique Kerber.
I was feeling really bad, said Pennetta. My body just need to breathe.
I started having the sensation to throw up. But there was nothing inside, so it didn't come out.
Juan Martin Del Potro, the 2009 U.S. Open champion, also wilted in the steamy conditions, losing 4-6 7-6 6-2 7-6 to Frenchman Gilles Simon on a bad day for the Argentines. As well as Nalbandian and Del Potro, Juan Ignacio Chela also departed, losing to American wildcard Donald Young 7-5 6-4 6-3.
Young will face Britain's Andy Murray, the fourth seed, who turned in his best performance of the tournament to defeat Spain's Feliciano Lopez 6-1 6-4 6-2, two days after he was pushed to five sets and the brink of an early exit.
Andy Roddick, the 2003 champion, sailed through with a 6-1 6-4 7-6 victory over Julien Benneteau of France, ensuring the U.S. will have four men in the last 16, joining Mardy Fish, who won his third round Saturday, and the big-serving John Isner, who beat yet another local, Alex Bogomolov Jr, 7-6 6-4 6-4.
There was no sign of what was to come from Nadal as he eased his way past Nalbandian in straight sets, although the pair played at the hottest part of the day and were soaked in sweat almost as soon as they started.
By his own lofty standards, it was not a great performance by Nadal but he survived against an experienced and streetwise opponent and has yet to drop a set in the tournament.
His title defense remains on track although the second seed needs to keep improving. His serve, which provided the foundations for his win last year, remains shaky and he is still struggling to regain his confidence after losing the Wimbledon final to Novak Djokovic.
I think I have played better every day, Nadal said.
Today, for moments, I played, in my opinion, at a very, very positive level, very high level.
Nadal's next opponent is Gilles Muller of Luxembourg, who beat Russia's Igor Kunitsyn 6-1 6-4 6-4.
© Copyright Thomson Reuters 2023. All rights reserved.