Naked Model Liana Klevtsova Protests Russian Cost-Of-Living By Going Nude During Siberian Winter [VIDEO]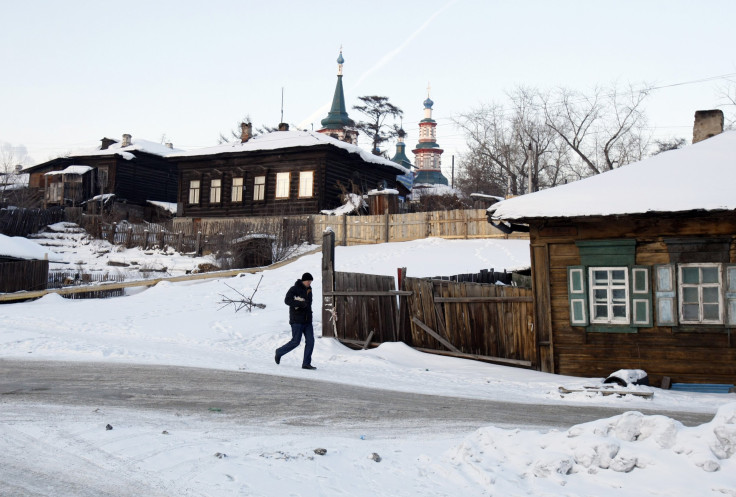 A 19-year-old Russian woman has become an Internet sensation by posing nude in the bitter Russian winter in a series of advertisements against the cost of living under Vladimir Putin and rising expenses for ordinary citizens. Liana Klevtsova, a model from the town of Irkutsk reportedly featured in Vogue, posed nude in a series of advertisements for Golaya Pravda (Naked Truth), according to the Siberian Times.
The controversial advertisements have addressed high mortgage interests rates, cost of transportation and high fuel costs. "We wanted to send this positive message to people that nothing can bring us down, and the contrast of winter and naked body, we had to show it," Klevtsova told the Siberian Times. "People are not ready to fight to lower fuel prices. It's easier for them to buy a smaller car."
The photos, posted with added blurring by the Mirror, show Klevtsova posing outside a bank in red high heels, in front of a gas station and riding a bus. The image outside of the bank shows her holding a passport with the advertisement reading, "I've paid off my mortgage," according to the Express.
The average monthly wage in Russia is around $25,000 (approximately $467), but mortgage rates are up to 18 percent and gas is 40 rubles per liter.
"When mama found out I was doing this, she was strongly against it," Klevtsova said, according to the Siberian Times. "She was saying I dishonoured the family with my appearance, and that it was stupid and vulgar. She was crying and begging me to stop all this, but she gradually accepted it."
Watch Klevtsova's protest images here:
© Copyright IBTimes 2023. All rights reserved.