NASA Astronaut Shares Photos Of Tonga Volcano Plume As Seen From ISS
KEY POINTS
Photos from the ISS shows the thick plume blocking out the sun
Satellites also captured images of the eruption and its aftermath
3 people have died following the volcanic eruption in Tonga
An astronaut aboard the International Space Station (ISS) captured images of the aftermath of the recent underwater volcanic eruption that rocked the Pacific nation of Tonga.
Tonga was severely impacted by the underwater volcano that erupted Saturday. The massive explosion generated shock waves, sonic booms and even tsunami waves that were even experienced in various parts of the world, NASA Earth Observatory noted.
On Sunday, astronauts aboard the ISS caught a unique glimpse of the aftermath of the eruption.
"During a pass over New Zealand on Sunday, I opened the window shutter to see if we could see any effects of the eruption, and saw this dramatic, high altitude plume blocking out the sun near the terminator," NASA astronaut Kayla Barron posted on Facebook. "Our thoughts are with everyone on Earth who have been affected."
In the images, one can clearly see the thick smoke blanketing the area as a result of the eruption.
On Wednesday, NASA Earth Observatory also shared satellite footage of the eruption as its Image of the Day. In the animation, which was created from the images captured by the NOAA's Geostationary Operational Environmental Satellite 17 (GOES-17), one can see the moment when an "umbrella cloud" was created from the materials spewed by the eruption.
The agency also shared three satellite images that showed how the waters around Tonga and nearby uninhabited island, Hunga Tonga-Hunga Ha'apai, were disrupted by the explosion. The images were taken on Jan. 7, 15 and 17. The images from Jan. 15 and 17 showed the discoloration of the surrounding waters due to the ash, sediment and pumice. The images were captured by the Moderate Resolution Imaging Spectroradiometer (MODIS) instrument on NASA's Aqua satellite, the agency noted.
During its first official update Tuesday since the eruption over the weekend, the Tonga government called the event an "unprecedented disaster" wherein the volcanic plume affected all of the nation's islands. It noted that both international and domestic communications were severed, and described the devastation on the homes on its islands. For instance, all the houses on Mango Island were destroyed, while only two remained on Fonoifua Island.
Search and rescue operations began "immediately," the government noted. Three people have been confirmed dead following the eruption and injuries have also been reported.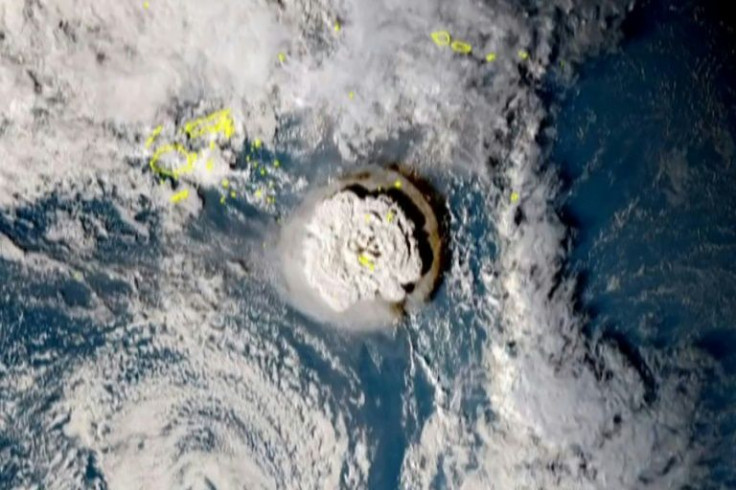 © Copyright IBTimes 2022. All rights reserved.
FOLLOW MORE IBT NEWS ON THE BELOW CHANNELS