NASA Satellite Captures Images Of Snow-Covered Spain
KEY POINTS
Spain last week experienced its heaviest snowfall since 1971
A NASA satellite captured images showing the aftermath of the blizzard
The region is expected to experience freezing temperatures in the coming days as well
Spain experienced a massive snowstorm last week and a NASA satellite managed to snap images of it as the country was blanketed in thick snow.
A collision between a low-pressure weather system and a cold air mass triggered the deadly blizzard in Spain on Friday, NASA Earth Observatory said. Madrid even saw eight to 12 inches of snow as Storm Filomena hit the region.
On Monday afternoon, the Moderate Resolution Imaging Spectroradiometer (MODIS) instrument on NASA's Aqua satellite captured two images of Spain, showing its snow-covered landscape.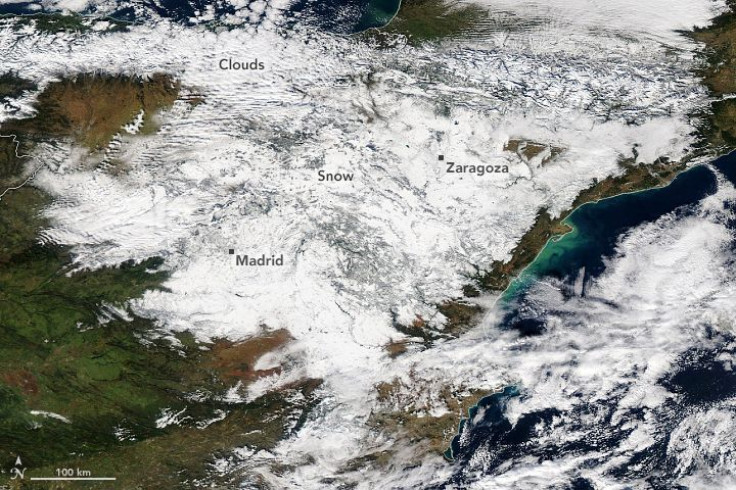 The natural-color image shows parts of Spain blanketed in snow, with Zaragoza and hard-hit Madrid clearly in the thick of the record snowfall.
"Some suburban and rural areas in central, northern, and eastern Spain were coated with up to 50 centimeters (20 inches) of snow," NASA Earth Observatory noted.
The other one is a false-color image that helps distinguish the white clouds from the snow, ice and icy clouds, which can be seen in teal.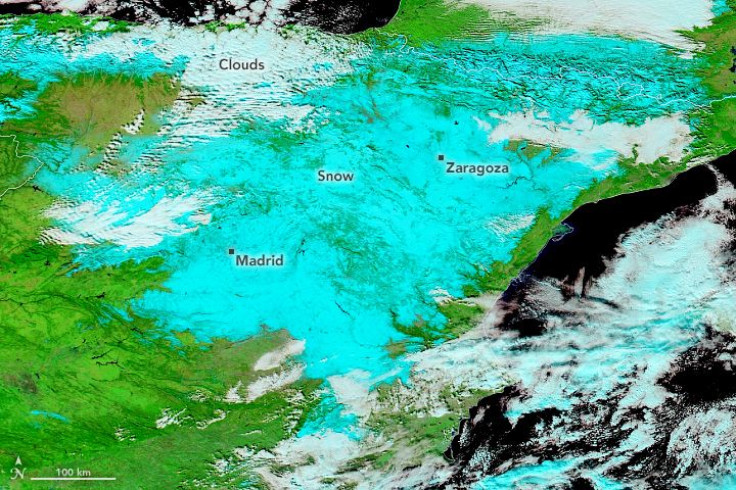 In both images, one can see just how much snow the weather event dumped on the region.
Meteorologists noted that the snowstorm was the largest snowfall in the region since 1971. On Saturday, Spain's transport minister, José Luis Ábalos, even said that Storm Filomena "exceeded the most pessimistic forecasts we had," The New York Times reported.
Hundreds of streets and roads were blocked and flights had to be canceled as emergency services rescued many people who were stranded in their vehicles. At least three people lost their lives. One of them was discovered under a pile of snow in Madrid, while two others died trying to cross a river.
Forecasters have warned that freezing temperatures of up to -10 degrees Celsius could persist until later in the week. On Sunday, authorities cleared the roads before the snow turned into potentially dangerous ice.
Storm Filomena also brought heavy rains apart from the snow, with the country's southern parts and even the Canary Islands experiencing strong winds and heavy rains that led to flash floods.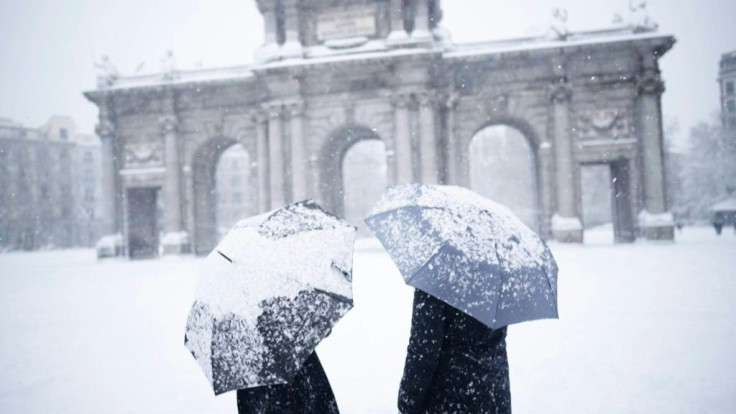 © Copyright IBTimes 2022. All rights reserved.
FOLLOW MORE IBT NEWS ON THE BELOW CHANNELS