NASCAR Bristol Sprint Cup Series: Where To Watch Live, Preview, Starting Grid, Kyle Busch Seeks First Sprint Cup Victory In 2013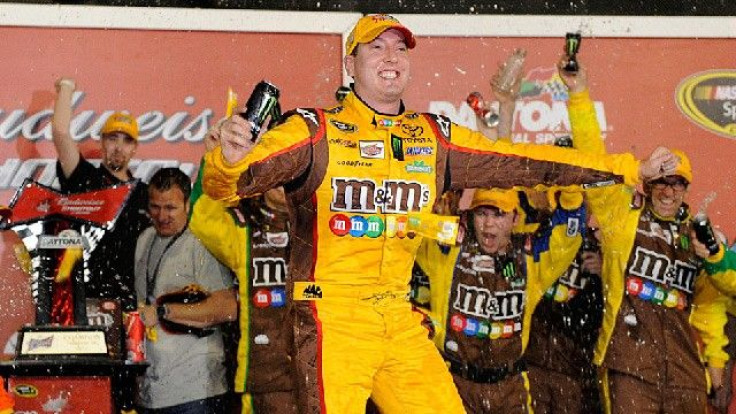 Kyle Busch hopes his record-breaking pole speed also translates into a victory Sunday.
Busch break a 10-year track record with a blistering 129.535 mph run at Bristol Motor Speedway and will lead the pack in the fourth race of NASCAR's Spring Cup Series.
It was Busch's first pole victory this season, and the 13th of his 10-year Sprint Cup career. The 27-year-old M&M's driver has two top five finishes this season, and will try build on his fourth place performance in Las Vegas last week.
Almost a mile slower, Kasey Kahne will start from the No. 2 position, and despite his first protests to the new "Gen-6" model, Denny Hamlin clocked a 128.960 mph lap for the No. 3 spot.
Hamlin continued his war of public words with NASCAR officials, calling his $25,000 fine for criticizing the new car model an overreaction. However, Hamlin reportedly met with chairman Brian France, and said NASCAR also believes it was a little too harsh with the fine.
Current points leader Jimmie Johnson will start from the No. 13 position.
Just behind Johnson by five points is Brad Keselowski, who won last year's trip to Bristol with an outstanding 232 laps led, with Brian Vickers coming the closest with 125 laps.
Coverage of the race begins at 1 p.m. on Fox.
The top 10 in Sunday's starting grid can be viewed below, with the manufacturer and car number included:
Kyle Busch, Toyota, 18
Kasey Kahne, Chevrolet, 5
Denny Hamlin, Toyota, 11
Brian Vickers, Toyota, 55
Paul Menard, Chevrolet, 27
Jamie McMurray, Chevrolet, 1
Brad Keselowski, Ford, 2
Tony Stewart, Chevrolet, 14
Martin Truex Jr., Toyota, 56
Joey Logana, Ford, 22
© Copyright IBTimes 2023. All rights reserved.