Nathan's Hot Dog Eating Contest Results 2014: Joey Chestnut Wins Big As Sonya Thomas Is Outeaten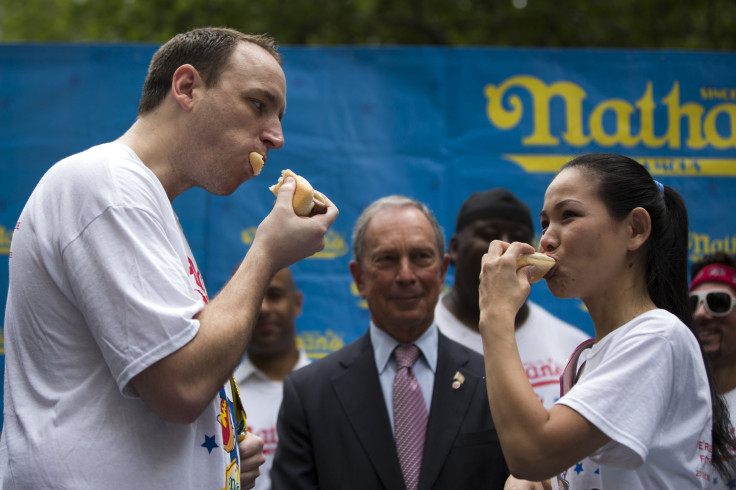 Today was a great day for Joey Chestnut -- not only did he win his eighth straight Nathan's Hot Dog Eating Contest title, but he also is now an engaged man!
Chestnut, a 31-year-old California native, sealed his championship title after chowing down on 61 hot dogs and buns in just 10 minutes. The competitive eater was aiming to break his own personal record of 69 hot dogs, but began to significantly slow down in the final three minutes of the competition. Hot on his heels was newcomer Matthew Stonie, 22, who was neck-and-neck with the reigning champion until the last minute of the contest. Stonie eventually finished with 56.
But before the contest even began, it seemed that Chestnut had already won. Before the main event, Chestnut took to the stage, and after a few sweet words, got down on one knee proposed to his girlfriend of three years in front of a crowd of spectators. She said yes.
Check out a video of the proposal over at SB Nation.
For the female competition, three-time defending champion Sonya "The Black Widow" Thomas was outeaten by Miki Sudo, who was ranked fourth at the start of the competition. Sudo was able to eat 34 hot dogs in 10 minutes. Thomas came in second after eating 27 3/4 hot dogs, narrowly beating out third-place winner Michelle Lesco with 27 hot dogs.
Sudo is proud of her accomplishments but was still hoping to perform better.
"To be the first person to beat Sonya Thomas at hot dogs is surreal," Sudo said, according to USA Today. "I think both of us are hoping to break the existing world record of 45 in 10 minutes but weather conditions got in the way but we'll definitely be back to set a higher number."
The hot dog eating contest has become an Independence Day tradition, held annually at Coney Island in New York City.
© Copyright IBTimes 2023. All rights reserved.