National Pretzel Day 2014: How To Get Free Pretzels From Snyder's Of Hanover, Pretzelmaker And Philly Pretzel Factory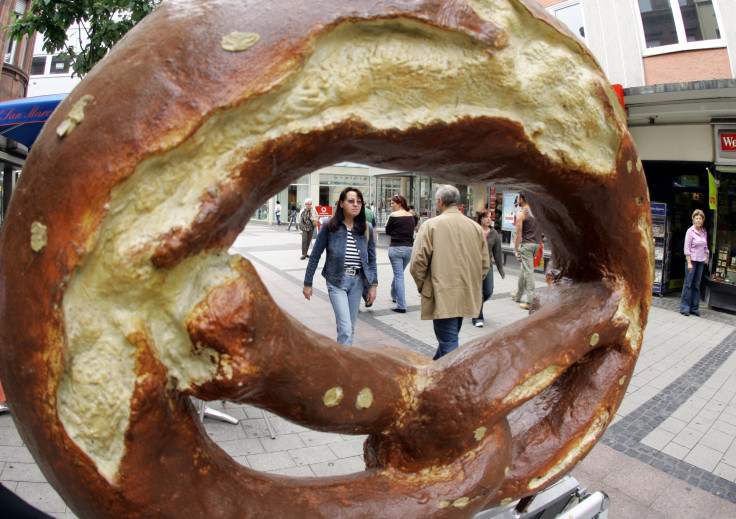 Saturday, April 26 marks the 12th annual incarnation of National Pretzel Day, and several prominent companies are celebrating the event by giving away free pretzels to customers.
National Pretzel Day was initially created over 30 years ago by U.S. congressman Robert S. Walker of Pennsylvania, according to a press release. However, the day gained national recognition in 2003, when then-governor Ed Rendell re-declared National Pretzel Day to celebrate the importance and history of his state's most famous snack food. As of today, over 80 percent of all pretzels are made in Pennsylvania.
Since then, many companies have shown their appreciation for customers by giving away free pretzels on National Pretzel Day. Snyder's Of Hanover, Pretzelmaker, Pretzel Time and the Philly Pretzel Factory all plan to participate in this year's festivities. Here's a rundown of how to get free pretzels at each of these establishments.
Snyder's of Hanover will celebrate National Pretzel Day by throwing pretzel-themed events in nine different American cities. According to the company's press release, customers "can enjoy samples of Snyder's of Hanover flavored pretzel pieces, take a photo while standing inside a 6-foot, oversized pretzel bag, and participate in lots of other activities to win pretzel-themed prizes." A list of the locations of these nine events can be viewed below.
Boston, Mass.—Faneuil Hall
Philadelphia, Pa.—Penn Relays
Pittsburgh, Pa.—GoodTaste! Pittsburgh
Washington, D.C.—Great Grapes Wine & Food Festival
Charlotte, N.C.—MerleFest
Atlanta, Ga.—Spring Jonquil Fest
St. Louis, Mo.—The Saint Louis Zoo
Chicago, Ill.—Baconfest Chicago
Sacramento, Calif.—The Sacramento Zoo
In addition, fans who are unable to attend the events can participate in National Pretzel Day by logging into the official Snyder's of Hanover Facebook page, where they'll have the opportunity "to win one of 60 pretzel prize packs, which included a wide assortment of pretzels, plus Snyder's of Hanover T-shirts, pretzel glasses, stickers and temporary tattoos."
Pretzelmaker will honor National Pretzel Day by giving away a total of 65,000 free pretzels at participating local chains. Consumers will have the option of receiving a salted or unsalted soft pretzel, and are encouraged to donate funds to The Leukemia & Lymphoma Society during their visit. Click here for Pretzelmaker store locations. The deal also applies to Pretzel Time locations.
Philly Pretzel Factory will give away a free soft pretzel to each on their customers on Saturday, the Daily Local reports. Marty Ferrill, the company's president, says that the franchise will produce a million handmade pretzels to meet the demand on National Pretzel Day. A list of store locations can be viewed here.
"The entire Philly Pretzel Factory franchise system and our customers look forward to National Pretzel Day every year as the biggest and best day of the year," CEO and co-founder Dan DiZio told the Daily Local. "We love treating our customers to a free pretzel all day because we think it is important to show them how valued they are to us, and to let them know we wouldn't be where we are today as the best Philly-style pretzel bakery that exists without their continued devotion to our brand."
© Copyright IBTimes 2023. All rights reserved.