NATO Can't Spend More On Defense In The Face Of Russian Aggressiveness, Experts Say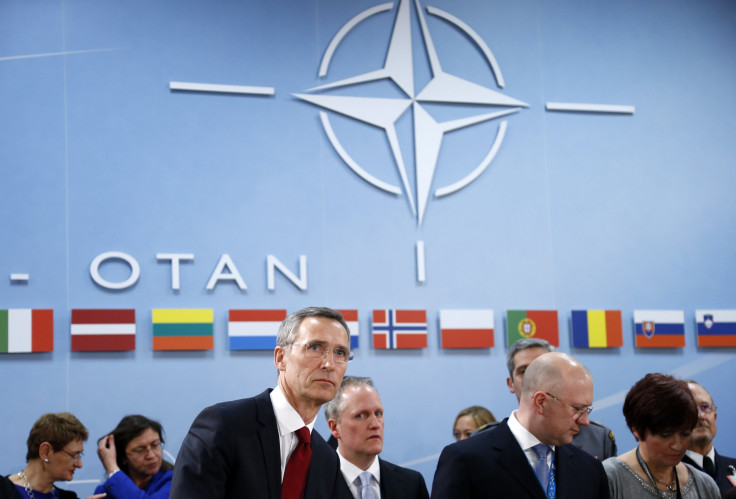 Military spending has been high on the agenda for NATO members since Russia annexed Crimea in March of last year and became involved in the East Ukraine war in April. President Barack Obama and former U.S. defense secretary Chuck Hagel have previously urged members of the 28-country alliance to ensure that they spend a minimum of 2 percent of GDP on defense to counter renewed Russian hostility and military might.
But that target is not realistic, according to a majority of experts who weighed in on the subject in a report by the Carnegie Endowment for International Peace. Even for rich European countries like Germany, reaching that goal would create enormous added expenditures.
"The guideline that NATO members should spend 2 percent of their gross domestic product (GDP) on defense, if taken literally, would create an impossible situation for some allies," said Ian Anthony, Director of the European Security Program at the Stockholm International Peace Research Institute (Sipri).
For example, "Germany would have to increase its military budget from roughly €37 billion ($42 billion) to over €74 billion to meet the target." The prospect of more spending on weapons is even more untenable in most of the rest of Europe, where the effects of the financial crisis are still harsh and the mandate for many countries is still austerity.
But according to Stephen Szabo, executive director of the Transatlantic Academy, a Washington-based research institute, the 2 percent target is "realistic and necessary."
"The continent now faces a very different security environment characterized by real threats emanating from Russia and the Middle East," said Szabo, "at a time when the United States is no longer willing to play the role in European security that it has played since the beginning of the Cold War."
Still, according to NATO statistics, the U.S. accounts for around 70 percent of the alliance's total defense spending, and will continue to be the biggest contributor by far even as its defense budget shrinks from $670.3 billion in 2012 to $585 billion in 2015. As a percentage of the size of the American economy, defense spending will fall from 4.3 percent in 2012 to a projected 2.8 percent in 2023 -- still above the target, but much smaller.
The only other countries out of the entire NATO roster that meet the 2 percent goal are Estonia, Greece, the UK and France.
Those U.S. cutbacks, which are set to continue under the Republican-controlled Congress, have almost run parallel with an increase in Russian military spending, which rose from 3.4 percent of GDP in 2008 to 4.2 in 2013. Russia is going through a re-armament plan launched by president Vladimir Putin in 2012, aiming to spend $500 billion on new armaments by 2020. Its effects are alread being felt in the modernization of the air force, which is receiving vast numbers of new warplanes.
That push for increased defense spending is continuing even as Russia faces the risk of recession, with an economy hit by falling oil prices and sanctions over Moscow's role in the Ukrainian conflict, which are forcing Russia to burn through $220 billion in reserve cash.
The U.K., traditionally the staunchest American ally in Europe, will see its own defense budget fall below the NATO threshold by 2016. But that's not because of a significant decrease in defense spending, rather because of a recovering and growing economy making the defense budget relatively smaller.
But basing the evaluation of defense spending purely on how much of its economy a country spends on weapons may be a flawed model, other experts say.
"The spending pledge is a formal criterion with the weakness of any one-size-fits-all approach: it does not apply to all 28 allies," said Karl-Heinz Kamp, academic director of the Federal Academy for Security Policy in Berlin. The 2.4 percent spent on defense by Greece, which contributes relatively little to NATO missions (it does not, and never did, send armed aircraft to Afghanistan, for example), has a very different value to NATO than Canada, which spends only 1 percent on defense yet contributed heavily to the Afghanistan mission.
And even if a country increased its defense spending to meet the 2 percent, Kamp said. Many wouldn't be able to spend the money effectively because research, infrastructure, training and personnel may not exist to accommodate the added influx of investment.
Increased spending by some countries would also risk creating an unbalanced Europe. "If Germany spent 2 percent of its huge GDP, it would produce a defense budget overshadowing those of France and the U.K. and arguably causing more concern than reassurance among its neighbors," Kamp said.
But for now, how much a nation spends on defense spending remains the best metric in an increasingly hostile Europe, according to Lisa Aronsson, visiting fellow at the Atlantic Council: "For partners and adversaries especially, overall spending matters because it measures both capability and political will."
© Copyright IBTimes 2022. All rights reserved.
FOLLOW MORE IBT NEWS ON THE BELOW CHANNELS