NATO Chief Urges Turkey Not To Veto Sweden's Bid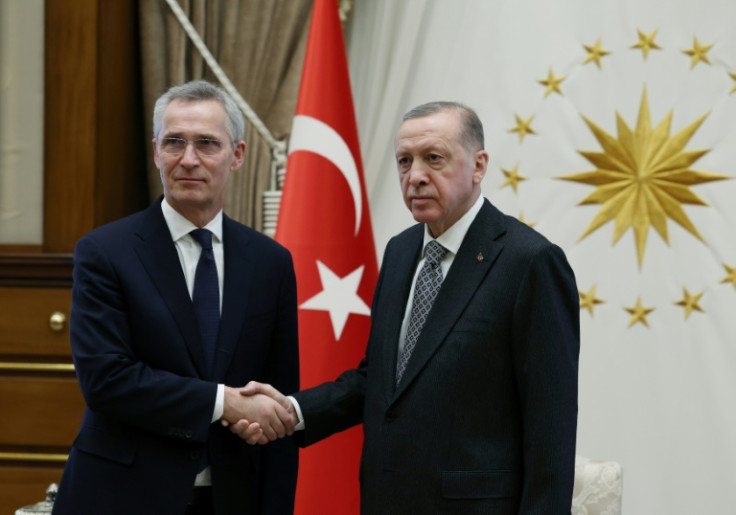 NATO chief Jens Stoltenberg on Sunday called on Ankara to drop its opposition to Sweden's bid to join the US-led defence alliance, hoping Stockholm's accession would be finalised "as soon as possible".
Pressure is building on Erdogan to greenlight Sweden's NATO membership ahead of a summit planned for July in the Lithuanian capital Vilnius.
"Membership will make Sweden safer but also make NATO and Turkey stronger," Stoltenberg told journalists after meeting with President Recep Tayyip Erdogan and newly appointed foreign minister Hakan Fidan, who was head of the intelligence agency, in Istanbul.
"I look forward to finalising Sweden's accession as soon as possible," he said.
On Saturday Stoltenberg attended the inauguration of Erdogan, who was re-elected to serve another five years, in a lavish ceremony joined by dozens of world leaders in the capital Ankara.
NATO member Turkey has dragged its feet over admitting Sweden to the military alliance. It and Hungary are the only two NATO countries yet to ratify the membership bid.
Sweden and Finland dropped decades of military non-alignment and applied to join the alliance in response to Russia's invasion of Ukraine.
Finland formally joined NATO in April.
Erdogan has accused Sweden of being a haven for "terrorists", especially members of the Kurdistan Workers' Party (PKK), a group blacklisted by Turkey and its Western allies.
"Sweden has taken significant concrete steps to meet Turkey's concerns," Stoltenberg said.
"This includes amending the Swedish constitution, ending arms embargo, stepping up counter-terrorism operations including against the PKK," he said.
"Sweden has fulfilled its obligations."
Swedish Foreign Minister Tobias Billstrom also said Stockholm had fulfilled "all the commitments" to join NATO and urged Turkey and Hungary to allow his country into the alliance.
Ankara is especially displeased with anti-Turkey and anti-Erdogan protests in Stockholm.
Swedish authorities allowed a "No to NATO, No Erdogan Laws in Sweden" demonstration to go ahead in the city centre on Sunday.
"Freedom of assembly and expression are core values in democratic societies. But we should remember why these are taking place," Stoltenberg said.
"Organisers of these demonstrations want to block Sweden's accession to NATO and undermine its collaboration with Turkey against terrorism and weaken NATO," he added.
"We should not allow them to succeed."
Stoltenberg said a joint working group established between Turkey, Sweden and Finland at the alliance's summit in Madrid last year would meet in the week of June 12, without providing a location.
He also thanked Turkey for deploying additional forces to the NATO-led peacekeeping force in Kosovo (KFOR).
More than 80 people, including 30 peacekeepers, were injured in a north Kosovo town on Monday when NATO-led KFOR troops clashed with ethnic Serb protesters who threw rocks, bottles and Molotov cocktails.
In Istanbul, Stoltenberg condemned "unprovoked attacks" against KFOR troops and said: "KFOR and NATO will take all necessary actions to maintain safe and secure environment for all citizens in Kosovo."
© Copyright AFP 2023. All rights reserved.