Navratri 2021: Hindu 'Nine Nights' Festival Celebrates Triumph Of Good Over Evil
The nine-day-long Hindu festival called "Navratri" -- dedicated to the goddess Durga -- begins on Oct. 7 and ends on Oct. 15 this year.
According to Hindu mythology, goddess Durga, a symbol of motherhood, power and courage, defeated the demon Mahishasura in a battle that lasted nine nights.
Navratri, which literally means nine nights, is marked through ritualistic chanting, prayers and fasting. On each day of Navratri, one form of the goddess is worshiped. The rituals end on the tenth day with the immersion of the idols in water bodies.
The tenth day is known as Dussehra, the day of victory. Dussehra falls on the 10th day of the month known as Ashwin in the Hindu calendar, according to Britannica.
The next three days involve the worship of Lakshmi, the goddess of wealth, fortune and prosperity, before moving onto Saraswati, the goddess of knowledge.
During the fasting, food is not avoided completely, but grains, such as rice, as well as meat, eggs, lentil, legumes, onion and garlic are not consumed.
In India, Navratri festivities comprise worshiping goddess Durga's nine forms, along with traditional dance and music. Farmers sow their seeds during this time to seek the blessings of Durga, who is also associated with the fertility of the earth. Along with dancing, people also get involved in feasts in the evenings with their loved ones.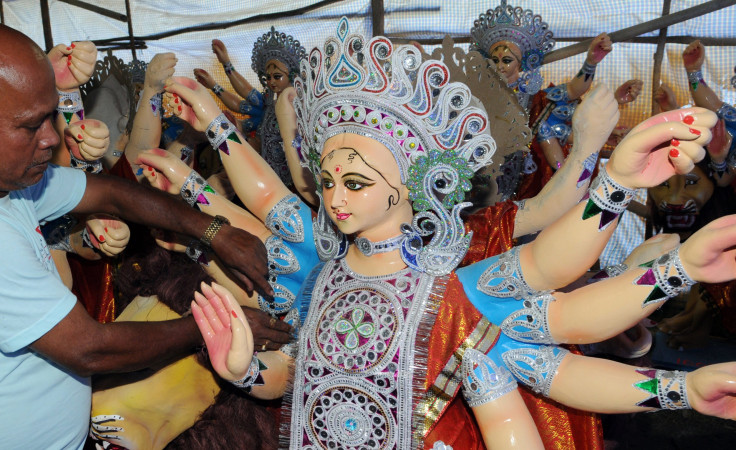 Forms of Durga:
Day 1: Shailaputri, known as the daughter of the Himalayas.
Day 2: Brahmacharini, symbolizes a female who pursues sacred religious knowledge.
Day 3: Chandraghanta, the one who has a half-moon shaped bell.
Day 4: Kushmanda -- the creator of the universe -- is believed to help improve health and bestow wealth and strength.
Day 5: Skandamata, a symbol of motherhood.
Day 6: Katyayani, named after the sage Katya, in whose house goddess Durga is believed to have taken birth in one form.
Day 7: Kalaratri, regarded as one of the many destructive forms of Durga.
Day 8: Mahagauri, the wife of Lord Shiva.
Day 9: Siddhidatri, known as the provider of supernatural powers.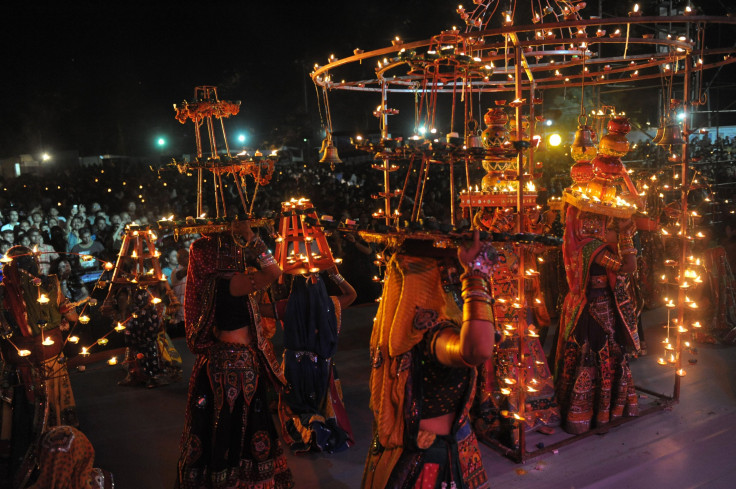 © Copyright IBTimes 2023. All rights reserved.