NBA: Adam Silver Suggests Creative Alternative As Sports Remain Suspended
KEY POINTS
The NBA remains suspended as a precautionary measure against the coronavirus
Adam Silver shared key points to consider prior to starting the season again
He added a creative way to help fans cope with the absence of sports
The National Basketball Association was one of the first leagues to act on the coronavirus threat. The rapidly evolving case of the COVID-19 has impacted the entire world with thousands of people getting infected daily.
Several players of the league have already tested positive of the virus as the league continues to take precautions on lifting the suspension. Team owners are looking at around a three-month hiatus before considering resuming the games. A mid-to-late June resumption of the season is most likely the best-looking scenario for basketball.
Adam Silver recently spoke of the possible options the league has to take before taking any further action.
He shared on Sports Center some points they are looking into right now with the whole global pandemic. He mentioned that they have to consider when they are able to operate fully with thousands of fans in attendance and if the buildings and arenas are already equipped.
Another point is if they should consider playing with or without fans. But before anything else, Silver pointed out that there should be a doctor's protocol followed before proceeding to declare it safe to play.
Finally, Silver gets creative with a proposal that the league can do in the interim. He shared that the league is open to hosting an exhibition game similar to the All-Star game as a general fundraiser. In addition to this, he also emphasized that this is for the fans that are also affected by the absence of sports.
Considering how abrupt the sporting world had to pull the plug and suspend their seasons, fans all over the world are searching for ways to cope in this bizarre time.
"I've mentioned at the beginning of this interview the impact on the national psyche of having no sports program on television," the commissioner said.
"One of the things we've been talking about is if there are conditions in which a group of players could compete. Maybe it's for a giant fundraiser or just for the collective good of the people."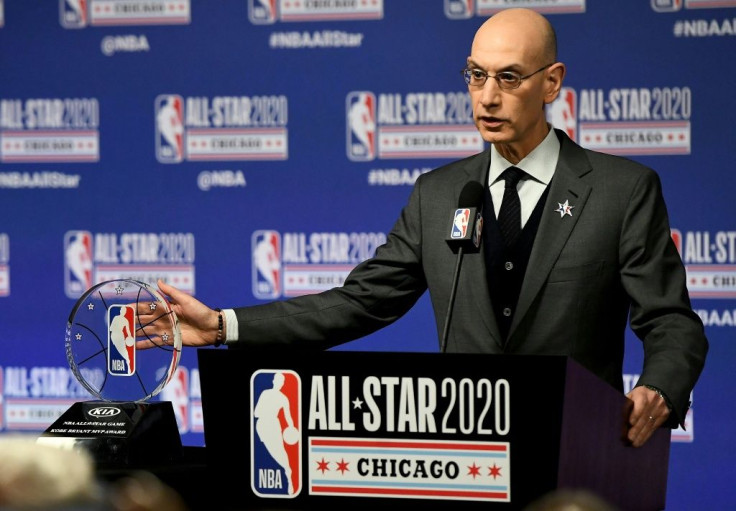 © Copyright IBTimes 2023. All rights reserved.
FOLLOW MORE IBT NEWS ON THE BELOW CHANNELS