NBA Agrees To Promote Voting Access Before Playoffs Restart
NBA players are ready to get back on the court after the league agreed to take more steps to support social justice and combat racial inequality in the wake of the shooting of Jacob Blake.
Representatives from all 13 teams that remain in the league's bubble in Orlando, Florida, held a call with team owners Thursday, one day after the Milwaukee Bucks sparked a boycott of every scheduled playoff game. Players challenged the owners to be proactive in promoting social justice changes while doing more than just financial commitments, according to The Athletic's Shams Charania.
NBPA Executive Director Michele Roberts and NBA Commissioner Adam Silver released a joint statement Friday, announcing new initiatives aimed at voting.
"In every city where the league franchise owns and controls the arena property, team governors will continue to work with local elections officials to convert the facility into a voting location for the 2020 general election to allow for a safe in-person voting option for communities vulnerable to COVID," read the statement. "If a deadline has passed, team governors will work with local elections officials to find another election-related use for the facility, including but not limited to voter registration and ballot receiving boards."
The league will also establish a coalition made up of players, coaches and governors advocating for meaningful police and criminal justice reform.
Los Angeles Lakers star LeBron James was reportedly critical of team owners in a meeting Wednesday night, during which players discussed the possibility of ending the season. The Lakers and Los Angeles Clippers voted in favor of leaving the bubble in an informal vote, according to multiple reports.
In June, James helped create More Than a Vote, which is aimed at combating voter suppression. The organization worked with the Los Angeles Dodgers to turn Dodger Stadium into a polling station for the Nov. 3 presidential election.
The Houston Rockets announced Thursday that it would turn Toyota Center into a voting site. The Atlanta Hawks, Milwaukee Bucks and Detroit Pistons all offered to use their arenas as voting centers earlier this summer.
The NBA playoffs will resume Saturday.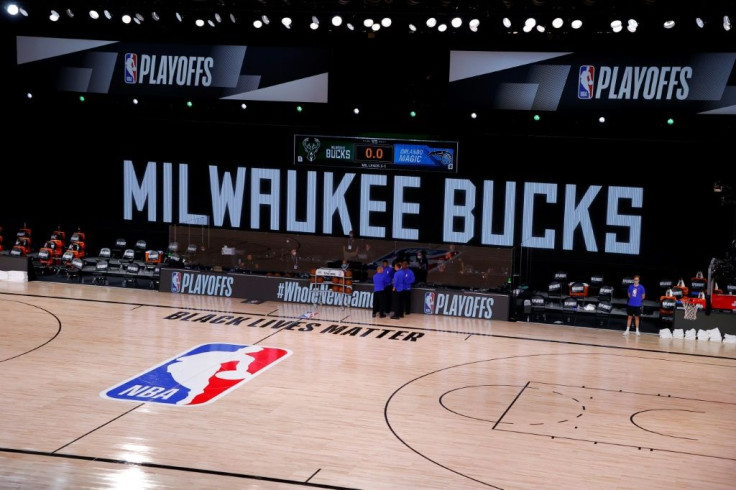 © Copyright IBTimes 2023. All rights reserved.